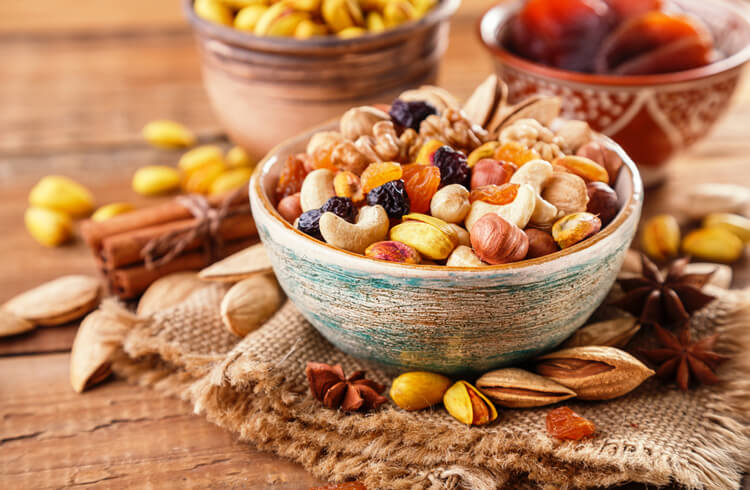 In a country like Canada where winter is at its peak, who doesn't want to have dried fruits? Therefore, Adnoor now bring for you all the Dried Fruits that will make your winters even better. From a vast variety of Dried Fruits that we have, you can pick up your favourites and order them. From Dates to Dried Apricots, Dried Figs, Dried Plum and Dried Red Barberries, all are available for our customers in Canada.
These dried foods are a much healthier option than chip and crackers and you can enjoy with your teas and coffee at any time.
Red Dates
Red dates consist of a rich and crunchy flavour by nature. They have a distinct flavour that is exclusive to them. They are a tasty, healthful treat with a wide range of applications. Vitamin C and antioxidants found in red dates are recognized for slowing the signs of aging. They act as antioxidants, which explains this. A handful of these delightful tiny fruits will at least ten years off your age! Jujubes are well-known for their therapeutic benefits and high levels of vitamin C. Minerals including potassium, phosphorus, manganese, iron, and zinc are abundant in these little fruits. To keep your heart healthy, you need a mix of these elements.
Whole Apricots
If you are bored with the usual apricots, consider upgrading to a whole apricot instead, which is rich in taste and nutrients. The whole apricots from Adnoor are tasty and healthy. They are reputed to be tasty fruits that are frequently consumed uncooked. They can also be a component in puddings, sauces, jams, and desserts. After reading about them, we're certain you're craving apricots!
Dried Figs
A good source of organic health advantages is dried figs. They are a sweet fruit that tastes well and is high in antioxidants. People have long benefited from the delicious tastes and healthy properties of figs. Without the use of any additives or chemicals, dried figs are dried naturally. A tasty and beneficial snack to enjoy, these figs are ideal for any day of the week and are a great source of fibre, potassium, calcium, and other minerals. They also make a nice breakfast on-the-go.
Dried Plum
The taste of dried plums is rich, chewy, and comparable to raisins. They are used often in recipes for cookies, pies, puddings, salads, and other sweets because they are soft and simple to chew. When the fruit is fully mature but not yet overripe, dried plums are plucked from the domestic plum tree (Prunus domestica). To experience the flavours and sensations of fresh fruit without the mess, try a dried plum. You'll love our organic, organically dried, wonderfully ripe prunes.
Dried Red Barberries 
Gorgeous, preserved, spherical red barberries are a common ingredient in Persian cuisine. It tastes sour and bitter like cranberries and has undertones of rose water and cardamom. Visit Adnoor for the finest, hand-picked, organically dried barberries. Red barberries that are ideal for cooking are available at Adnoor. These nicely matured fruits we utilize give these dried red barberries their sourish and savory flavour.
Rich in nutrition and taste, Adnoor brings you the finest quality dried fruits that are available for our valued customers on our online stores. Visit adnoor.ca to order Dried Fruits that will satisfy your cravings and provide you with several health benefits, as well.