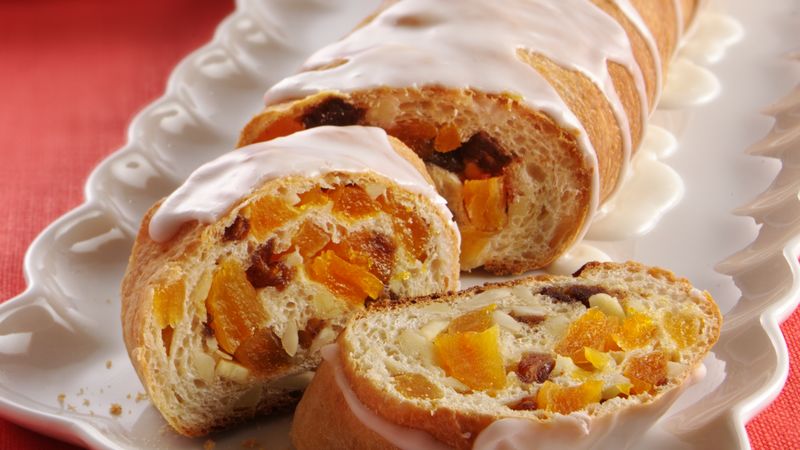 Candied fruit bread is the winter gourmet bread par excellence. But fig bread, dried fruit bread or other fruit bread can be eaten all year round! They are also very easy to make and provide good nutrients to our bodies. We'll tell you more here!
Bread with Dried Fruits: The Stewardship Recipe!
The recipe for bread with dried fruits can easily be adapted to all tastes. You just need to remove or add fruit according to your preference. You can thus create an infinity of bread recipes with dried fruits.
We give you here our flagship recipe! It's a very simple recipe that we love to bring out at all our Sunday brunches.
Ingredients for a Nut and Dried Fruit Bread:
400g T65 wheat flour
Four teaspoons of baker's yeast
One teaspoon of salt
One glass of water
50g raisins
30g of cranberries
40g 

dried apricots

 (cut into small pieces)
30g shelled harlequin walnuts
30g shelled almonds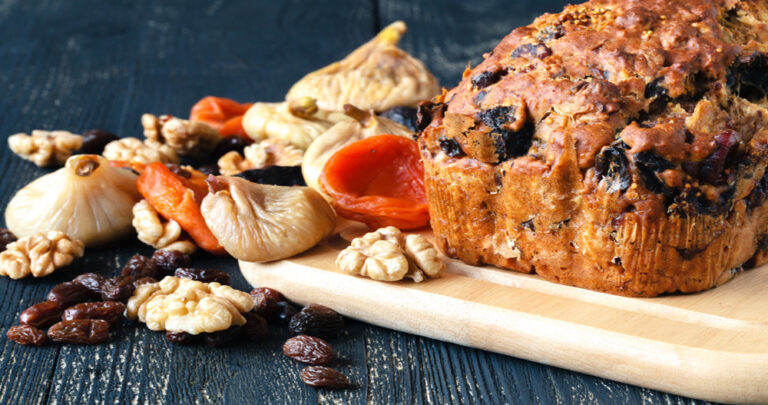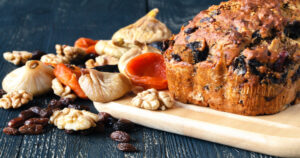 Five Steps to Make Your Bread with Dried Fruits and Nuts:
In a bowl, add the flour, baking powder and dried fruit. Add walnuts, almonds and salt. Add the water last once the dry ingredients are well mixed.
Mix and knead for ten minutes. Cover with a tea towel and let the dough rise for at least 4 hours.
Take the dough and knead it again. On a flat surface, make a sausage with the dough. Put the towel back on it and leave for 1 hour.
Preheat the oven to 220°C. Draw a grid pattern on the bread with a knife.
Bake for 40 minutes.
It's ready! To be enjoyed with spreads as an aperitif or at breakfast with yogurt and jam.
Dried Fruit Bread: Nutritional Benefits
Dried fruits are loaded with good nutrients. And with all those, it contains, bread with dried fruits necessarily has many health benefits!
We first take advantage of the antioxidants, in particular polyphenols, which are contained in dried fruits. They protect our tissues and cells, and they protect against many cancers.
Thanks to the proteins contained in both dried fruit and bread, dried fruit bread have a significant satiating power even if the quantity of calories it provides is moderate.
Dried fruits also have a high content of unsaturated fatty acids; among others, the nut contains a lot of omega-3. They help reduce the amount of "bad cholesterol" in the blood. What is called "bad cholesterol" is actually LDL lipoproteins. They are responsible for redistributing excess cholesterol to the vessels and other organs, so if they are too large, fatty deposits can form on the walls of the arteries, and this is where they can become dangerous.
Finally, dried fruit bread contains a lot of fibre which improves intestinal transit. You can even substitute T65 wheat flour for whole wheat flour (or make flour blends) for even more fibre!
Other Fruit Bread Recipes
Apple Bread
First, here is a great recipe for apple bread that you will love to taste at tea time.
Ingredients for apple bread:
One glass of apple juice
One glass of water
700g of T55 or T65 flour
Four teaspoons of golden sugar
One teaspoon of salt
Three teaspoons of yeast
80g of dried apples
35g fresh butter
In a bowl, add the flour, sugar, salt and baking powder. Mix. Add the melted butter, apple juice and water and mix until you obtain a soft dough.
Cover with a towel and let rest for 1 to 2 hours.
Add the apples to the dough and make a ball. Let the dough rise for another 30 minutes. Cook at 200°C for 30 minutes, then lower the temperature to 180°C and cook for another 10 minutes.
Wait for it to cool, and it's ready!
Raisin Bread
Today, you will also learn how to easily cook a classic pastry. Here is a very simple recipe for successfully making raisin bread that is crispy on the outside and melting on the inside.
Ingredients for Ten Raisin Bread:
220g T65 flour
One teaspoon of salt
Three teaspoons of yeast
1/2 glass of milk
20g blond sugar
120g butter (or almond puree )
And for the pastry cream:
15cl milk of your choice
35g blond sugar
One egg (you can substitute more cornstarch or flour if you want a vegan alternative that retains the thickening power of the egg)
One teaspoon cornstarch
10g of butter
Three teaspoons of vanilla sugar
40g raisins soaked in rum
Raisin Bread in 6 Steps:
Mix in a salad bowl the flour, the yeast, the salt, the blond sugar, and the milk using an electric whisk. Continue mixing for at least 5 minutes.
Cover the bowl with a tea towel and let the dough rise for an hour.
While waiting, prepare the pastry cream: bring the milk, 15g of blood sugar and the vanilla sugar to a boil. On the side, in another bowl, mix the egg yolk and 20g of sugar and add the sifted flour. Gradually add the milk to the mixture in the bowl, whisking to combine.
Cook the cream, stirring briskly and frequently. As soon as the preparation boils, continue to whip for a minute on the fire. Add the butter to it. Leave the pastry cream to rest in the fridge, covering it with food wrap.
Take the puff pastry and form a rectangle. Spread the pastry cream on it. Distribute the raisins. Roll the dough widthwise and cut 2cm pieces. Here is your raisin bread taking shape!
Leave to rise for 30 minutes, then bake for 30 minutes at 180°C.
Fig Bread
Fig bread goes very well as an aperitif to accompany tapenades and spreads or even a summer salad. Here is a recipe for a nice sweet-salty effect.
Ingredients for Fig Bread:
500g wheat flour type T110
100g dried figs
Three teaspoons of yeast
One and a half glasses of water
Two teaspoons of salt
Put the flour, yeast, water and salt in a bowl. Cut the figs into small pieces, add them to the rest and mix.
Cover the dough with a tea towel or food wrap, such as a bee wrap and let the dough rise between 12 p.m. and 6 p.m.
Knead the dough and form a ball with it and leave to rest for another 2 hours.
Preheat the oven to 220°C. Bake the ball of dough, on which you will have made a grid, for 30 minutes.
The bread is ready to eat!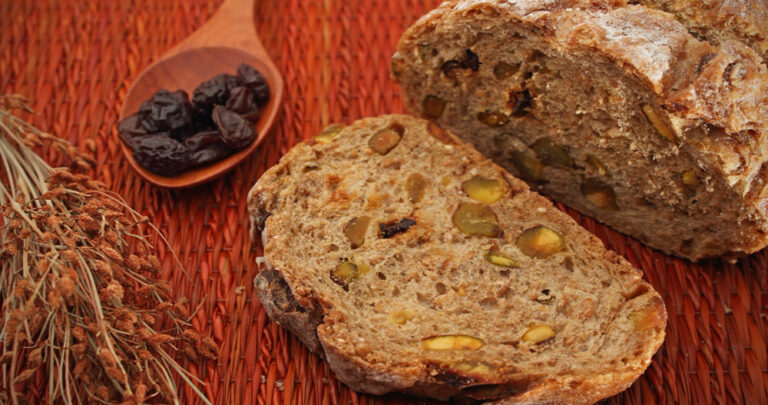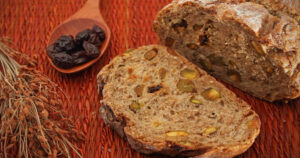 Visit the ADNOOR website for the best golden Sella basmati rice, long-grain rice, brown rice, Super Kernel Basmati Rice, white rice, nuts, seeds, and dried fruits. We take pride in saying that we are the best Dried Fruit Suppliers in Canada and have been the importers, exporters, wholesalers, distributors, and co-packers of various nuts and grains in Canada for the last 25 years. We aim to provide our customers with quality products so they keep trusting us. So without wasting time, visit our website and order what you need.