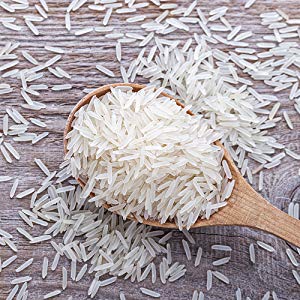 Basmati rice is a long, fine-grain rice. Originally from India, it is considered the finest rice in the world. In India, it is reserved only for special occasions!
Among the 8000 varieties of rice worldwide, its delicate flavour and texture are its main assets, just like the fact of do not stick when cooked. On the nutritional side, basmati rice is also a valuable ally for your body. Naturally gluten-free, it also provides many B vitamins and minerals while having a low glycemic index.
Basmati rice can be cooked in a pan or steamed in just 15 minutes.
Origins of Basmati Rice
Where does basmati rice come from, and what is the difference between white rice and brown rice? Let's discover together the subtleties of this long-grain rice, which only arrived in Europe in the 20th century and is now an integral part of our diet.
Indian Rice
It is in India, but also in Pakistan, that basmati rice is mainly grown. The rice is sown and then transplanted from a certain height, and it takes up to six months to be able to harvest it. Its name is not insignificant. Indeed, in Hindi, the word "basmati" means: "the queen of perfume." It is, therefore, not for nothing that its perfume is so appreciated.
Whole and White Basmati Rice
Rice is a grain that grows in an envelope called bran. We remove this envelope to obtain white rice, but if we keep it, we obtain brown rice, also sometimes called brown or black rice.
This envelope is naturally rich in fibres and minerals. This gives brown rice more digestible and satiating properties, thanks to slower assimilation by the stomach while displaying a higher nutritional value than husked white rice. We also love it for its delicious hazelnut taste.
On the other hand, whole basmati rice takes longer to cook, and its dark colour can be disconcerting when you are used to eating white rice.
Between white rice and brown rice, we find semi-brown rice, also fragrant, provides more vitamins and minerals than white rice. The thickness of its sound envelope has been reduced, giving it a brownish colour.
What Is The Best Basmati Rice?
It all depends on individual tastes. Indeed, there is white basmati rice or wholegrain basmati rice, darker rice, which is just as popular. In any case, basmati rice is more nutritious than the traditional rice, especially in the complete and organic version. It provides many nutrients, such as magnesium. The length of rice grains also differs from rice to rice.
Nutritional Benefits of Basmati Rice
A good serving of traditional basmati rice is around 50g per person. This dose corresponds to the dose of starches recommended per meal for each individual.
Visit the ADNOOR website to get the best quality basmati rice, nuts, seeds, and dried fruits. We have been the importers, exporters, wholesalers, distributors, and co-packers of various nuts and grains in Canada for the last 25 years.