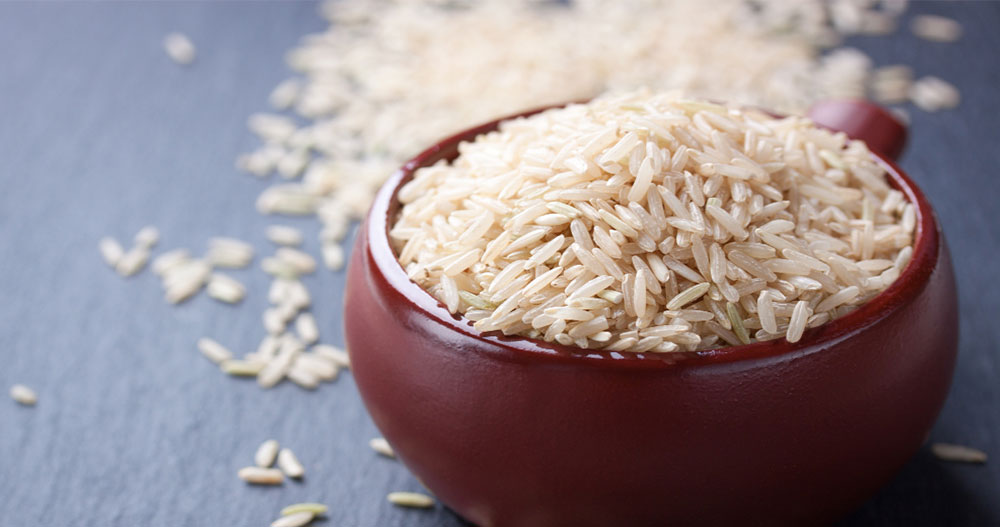 Basmati rice is a type of rice commonly used in Indian and South Asian cuisine and is known for its delightful aroma and pleasant fragrance. In this blog, we will explore the various aspects of basmati rice, including its types, nutritional value, benefits, and potential drawbacks.
Contents
Basmati Rice: Types, Benefits, and Nutritional Value
Nutritional Value of Basmati Rice:
Basmati rice is a popular type of rice that comes in two varieties: white and brown.
White Basmati Rice: 
The main difference is that white basmati rice has had its outer layer, known as the bran, removed during production. This process results in less nutritious rice compared to its brown counterpart.
Brown Basmati Rice:
On the other hand, brown basmati rice is considered a whole grain because it retains the bran layer. This layer contains dietary fibre and essential fatty acids, making brown basmati rice a healthier choice. It also has a slightly nuttier flavour and a chewier texture compared to white basmati rice.
Overall, both types of basmati rice are long and slender in shape, making them a popular choice in many households. However, brown basmati rice is the way to go for those looking for a healthier option due to its higher nutritional value.
Nutritional Value of Basmati Rice:
The nutritional content of basmati rice can vary depending on the type. However, both white and brown basmati rice provide essential nutrients. Here is the nutritional breakdown for one cup (approximately 163 grams) of cooked white basmati rice:
– Calories: 210
– Protein: 4.4 grams
– Fat: 0.5 grams
– Carbohydrates: 45.6 grams
– Dietary Fiber: 0.7 grams
– Sodium: 399 mg
– Folate: 24% of the Daily Value (DV)
– Thiamine: 22% of the DV
– Selenium: 22% of the DV
– Niacin: 15% of the DV
– Copper: 12% of the DV
– Iron: 11% of the DV
– Vitamin B6: 9% of the DV
– Zinc: 7% of the DV
– Phosphorus: 6% of the DV
– Magnesium: 5% of the DV
Brown basmati rice, while similar in many aspects, offers slightly more calories, carbohydrates, and fibre. Additionally, it contains higher levels of magnesium, vitamin E, zinc, potassium, and phosphorus.
Heart Health: Basmati rice is heart-healthy due to its low saturated fat content. The presence of dietary fibre in both white and brown basmati rice contributes to maintaining healthy blood pressure and cholesterol levels, supporting cardiovascular well-being.
Cancer Prevention: The fibre-rich nature of basmati rice, particularly in its brown form, makes it a valuable ally in the fight against cancer. It is particularly effective in reducing the risk of colon cancer. Basmati rice also contains compounds that counteract estrogen hormones, potentially reducing the risk of breast cancer.
Weight Management: Unlike white rice, basmati rice, especially the brown variety, can aid in weight management. Its high fibre content promotes a feeling of fullness, helping control appetite. Additionally, a carbohydrate called amylose present in basmati rice takes longer to digest, contributing to prolonged satiety.
Brain Health: Basmati rice contains thiamine, a vitamin that supports brain function, concentration, memory, and overall mental well-being. Regular consumption of basmati rice may even help prevent conditions like Alzheimer's disease.
Hemorrhoid Prevention: The fibre content in basmati rice can reduce pressure on the rectum, potentially preventing the development of hemorrhoids.
Digestive Health: Basmati rice aids in preventing constipation by maintaining adequate hydration levels in the body. It also softens stools, promoting smoother bowel movements and reducing the risk of stomach discomfort.
Blood Pressure Control: Rich in potassium and magnesium, basmati rice contributes to regulating blood pressure. The fibre content in brown basmati rice further enhances its blood pressure-controlling properties.
Diabetes Prevention: High fibre intake from basmati rice improves insulin sensitivity, reducing the risk of diabetes development.
Low Arsenic Content: Compared to many other rice varieties, basmati rice generally contains lower levels of arsenic, a heavy metal that can be harmful to health.
Nutrient Enrichment: White basmati rice is often fortified with essential nutrients like folic acid, thiamine, niacin, iron, and B vitamins, enhancing its nutritional profile.
Whole-Grain Option: Brown basmati rice, classified as a whole grain, retains all parts of the rice kernel, including the bran and endosperm. This offers numerous health benefits, including reduced risks of heart disease, cancer, and type 2 diabetes.
Gluten-Free: Basmati rice is naturally gluten-free, making it a safe choice for individuals with celiac disease or gluten intolerance.
Although basmati rice is widely recognized for its health benefits, it is important to be mindful of its potential drawbacks, particularly in relation to white basmati rice. The refining process involved in producing white rice removes several valuable nutrients, which can negatively affect blood sugar control and increase the risk of type 2 diabetes. Additionally, studies have indicated that consumption of white rice may contribute to obesity and metabolic syndrome, including heart disease and type 2 diabetes.
It is worth noting that basmati rice is a versatile and flavorful choice that holds several benefits for overall health. Opting for brown basmati rice is recommended for optimal nutrition, as it contains more fibre and an enhanced nutritional profile. Consuming basmati rice in moderation is key to reaping its benefits as part of a balanced diet. By being mindful of the potential drawbacks and making informed choices, individuals can enjoy the health benefits of basmati rice while minimizing any negative effects.
Are you looking for high-quality rice, nuts, seeds, and dried fruits? Look no further than ADNOOR! Our website offers a wide selection of Long-Grain Basmati Rice, Premium Long Grain Sella Rice, White rice, Brown Super Kernel Basmati Rice, and more. As the Best Basmati rice brand in GTA, we're proud to have served as importers, exporters, wholesalers, distributors, and co-packers of various nuts and grains for the past 25 years.