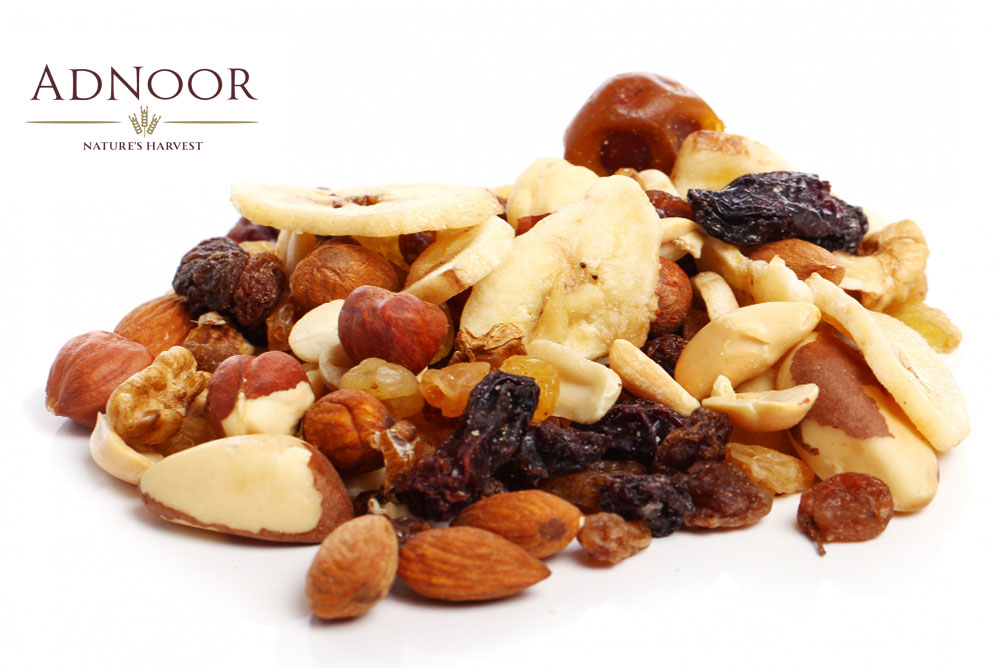 Figs, pineapple, nuts, raisins or berries, and dehydrated fruits (because that's what they are) are real energy concentrates. Packed with good carbohydrates, fibre, and vitamins, dried fruit is, therefore, a snack with all the healthiest things to satisfy a little peckish. The ideal? Consume them with nuts because they are complementary.
Come on! We explain it all to you!
Dried Fruit: What Is It?
There may be confusion between "dried fruit" and "dehydrated fruit." Because in reality, when we talk about dried fruits, we include both nuts (i.e., oilseeds such as almonds, pistachios, and cashews) and dried fruits, in other words, fruits that have been dehydrated.
Dried fruits are, therefore, part of the family of dried fruits. Still, unlike nuts which are naturally dry, they must undergo a dehydration stage. This stage is carried out on whole fruits (this is the case for grapes) or in pieces (pineapple slices, for example).
By reducing the percentage of water inside the fruit, dehydration gives the fruit a very long shelf life. But more importantly: it is precisely thanks to this dehydration that all the nutrients are concentrated, something that gives dried fruits a very high nutritional density.
Dried Fruits: Energy Galore!
Very rich in carbohydrates, dried fruits are, first and foremost, a great source of energy, immediately available to the body. This is why many athletes consume figs, pineapples, or even raisins before their training or competition.
But beware, dried fruits are not to be reserved for those who exert themselves a lot and make intense physical efforts. Because even if their sugar content may seem high, it is fructose that dried fruit provides, that is to say, the same sugar as that present in fresh fruit. And this sugar is much less hyperglycemic than sucrose (more commonly known as "table sugar").
Thus, even in the event of being overweight or having diabetes, dried fruits are certainly not to be banned. As always, just take the right amount and don't overdo it!
Dried Fruits: What Other Benefits?
Do you eat dried fruits? Do you know their benefits? In the below paragraphs, we have sought to enlighten you on the benefits of these foods that constitute real nutritional concentrates. Whether presented whole or in pieces, dried fruits are true nutritional treasures. There are, indeed, in raisins, figs, pineapple, and other berries, high concentrations of:
Fibres
Vitamins
Antioxidants
Potassium
Magnesium
The dried fig even provides a far from a negligible amount of calcium, and the physalis, considered a "super-fruit," is full of vitamin C to boost the immune defences.
Thanks to their nutritional richness, dried fruits are clearly friends who are good for our health:
They participate in regulating intestinal transit
They promote the elimination of cholesterol
They are beneficial to eye and skin health
They make hair and nails stronger and more beautiful
They play a role in reducing stress
Last benefit and not least: dried fruits are part of these useful foods in the prevention of cardiovascular diseases and certain cancers.
Consuming Dried Fruits With Nuts: Is A Super Good Idea!
Nuts, or oilseeds such as hazelnuts, almonds, pistachios, or Brazil nuts, provide good fatty acids and are known for their many benefits, especially those on heart health. They are also a very good source of dietary fiber, in the same way as dried fruits which, as we have just seen, also provide carbohydrates essential for energy and a good number of vitamins.
Fundamentally complementary, consuming a handful a day of a mixture of nuts and dried fruits is an ideal and tasty solution to provide your body with everything it needs to be healthy.
Be careful, though, because, in the trade, nuts are often roasted and salted, and dried fruits are subject to the addition of industrial sugar, which they do not need. This is why Adnoor mixtures are guaranteed 100% natural, to allow you to enjoy all their benefits without worry or guilt!
Characteristics of Dried Fruits
First of all, remember that there are two types of dried fruit: Naturally dried fruit called oilseeds or nuts (almonds, peanuts, hazelnuts, walnuts, etc.) and dehydrated fruit (apricots, figs, dates, pineapple, grapes, etc.).
These foods have seduced millions of consumers around the world and have quickly become the stars of the snack to take everywhere with you. Rich in fibre, good lipids and helping to lower cholesterol, they promote, among other things, the regulation of blood pressure.
These fruits represent a real asset for our health. For comparison, they are sometimes more protein than certain meats. To find out more, do not hesitate to ask your favourite sports coach.
Seven Dried Fruits for Seven Health Benefits
Each dry fruit has a specific mission. So do not hesitate to vary the pleasures:
Cranberry against urinary tract infections
Almond for muscle relaxation
Brazil nuts to prevent certain cancers
macadamia nuts to lower cholesterol
A natural anti-depressant for cashew nuts
The nut for the brain and the heart
prunes for constipation
When To Eat Them And How?
What's great about dried fruits is that you can really add them anywhere in your dishes, such as minced beef with dates and raisins or roast pork with dried apricots, for example. You can also add it when you make homemade bread, in salads or make smoothies and at breakfast in cottage cheese.
In addition, they can easily be carried throughout the day and eaten as a snack, before or after a workout, for example.
Be careful; it is advisable to eat about a handful per day, no more. Don't overdo it, and these are still high in calories.
ADNOOR provides the best long-grain rice, golden Sella basmati rice, Super Kernel Basmati Rice, brown rice, white rice, nuts, seeds, and dried fruits. We take pride in saying that we are the best rice brand in Canada and have been the importers, exporters, wholesalers, distributors, and co-packers of various nuts and grains in Canada for the last 25 years. We aim to provide our customers with quality products, so they keep trusting us. So without wasting time, visit our website and order what you need.