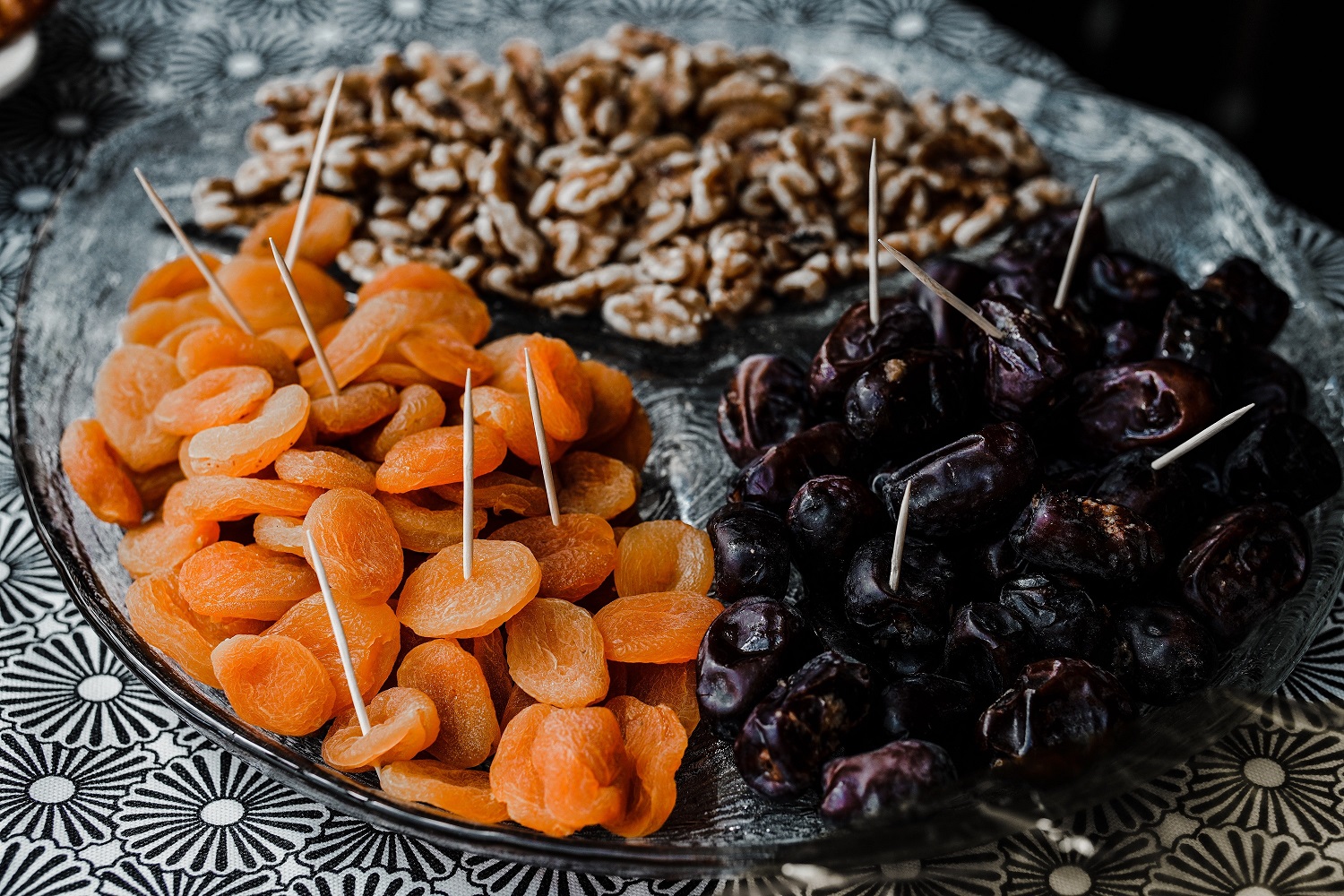 As part of a healthy diet, dried fruits rhyme with healthy, but be careful! A moment of relaxation in front of the television, a small bowl in hand to nibble on, and it is quickly several hundred calories that one can ingest without even realizing it.
On the bench of bad students, macadamia nuts lead the dance with no less than 240 calories per 40 grams. In comparison, almonds and peanuts reach 200 calories for equal quantities, pistachios around 170 calories and classic walnuts 160 calories.
A very high concentration of fatty acids is reinforced commercially by a multitude of salted, seasoned or grilled variations, for example. To vary the pleasures, we will favour raw nuts that we can possibly toast ourselves in the oven, at 175°C, without adding oil. And, of course, we avoid sugary or chocolate-coated options that could negate the health benefits!
On the dried fruit side, we would be quickly surprised by the amount of sugar contained in a simple portion of dates or apricots. Dehydration has certainly removed the water but has not changed the sugar content, which seems disproportionate given the product's small size. If prunes relatively limit the concentration with 38%, it already climbs to 48% with figs, 53% with apricots and 65% for dates.
Natural sugar, perhaps, but most of which is made up of fructose, which is not beneficial for health since it is a factor in weight gain and cardiovascular disease.
To give yourself a little boost, you can, in particular, bet on nuts and dried fruits, which are more satiating because they are rich in fibre, such as grapes, hazelnuts, pistachios and almonds, champions in all categories with their 3.5 grams of fibre per 30 g. A daily serving of 18 to 36 g could allow you to absorb about 130 fewer calories daily. What to enjoy without complex a wide variety of gourmet recipes, which it would be a shame to deprive yourself of.
Consuming the Dried Fruits
Looking to enjoy dried fruits? These days, you can find them in specialty stores and supermarkets, so it's easy to stock up on different varieties! But how should we eat them? One option is to add them in small amounts to our cooking. We can create our own mix of nuts and dried fruits in an airtight container, which can be handy for snacking. Alternatively, we can sprinkle a small amount on our salads, meat, and fish dishes. If we're feeling adventurous, we can even grind them into a powder and use them in breadcrumbs or pie crusts. Dried fruits can also be a great addition to a diet, as they can help enhance the flavour of a simple dish and make us feel fuller. For example, we can add a spoonful of nut butter or some dried apricots to a poke bowl for a delicious touch. They can also be sprinkled on top of yogurt for a crunchy or fruity twist at breakfast. It's important to remember that dried fruits are meant to complement traditional meals rather than replace them. Store the mixture at room temperature or in the freezer for a longer shelf life to keep them fresh.
Dried Banana
Rich in potassium and vitamins A and B, bananas are a delicious fresh and dried dish.
You should know that bananas cannot be dried in the sun because they ferment too quickly. Thus, the use of a food dehydrator is ideal for making banana chips.
How to dehydrate bananas?
Cutting bananas
In order to make banana chips, it is advisable to choose bananas that have brownish spots on the skin because, in this state, they give the best flavours. You can even use bananas with ¾ of the skin brown.
Cut the bananas into thin slices, about 0.5 cm, and soak them in a bowl of water containing squeezed lemon juice, which will prevent them from browning and add a little vitamin C.
Then place the banana slices in a colander, then directly on the trays of the dehydrator, leaving a space between each of them.
The dehydration process
Obtaining banana chips will take about 8 hours at 65 degrees for the first 2 hours, then at 55 degrees for the remaining 6 hours.
Dried bananas are ready when they can be easily snapped in half and make a crispy noise.
Storing dried bananas
Dried bananas need to be cooled for 2 hours before they can be placed in an airtight container, where they can be kept for 12 to 24 months. They keep at room temperature.
Some recipe ideas
Banana chips are a great addition to cereal bowls, yogurts, or as a snack, mixed with other dried fruits.
It is better to make banana chips yourself than buy them from the store because they contain many chemicals and additives.
Dried Strawberry
Dried strawberries are ideal for incorporating into a bowl of cereal or tossing with other dried fruits, which together make up the perfect afternoon snack.
Unlike apples or pears, for example, strawberries keep their color after the dehydration process. Drying the strawberries during the summer makes it possible to eat them all winter long, a real pleasure!
How to dehydrate strawberries?
Strawberry cutting
Before cutting the strawberries, they must first be washed in a colander for a few minutes. Then we remove the tail.
Cutting strawberries is done in the desired direction, but cutting them into thin slices. Indeed, the direction of the cut is much less important than the thickness of the slices. Be careful to cut all the slices with the same thickness, about 3 mm, so that the dehydration is done evenly.
The dehydration process
Fill the trays with strawberry slices, spacing them out, and adjust the temperature to 55 degrees. It will take 8 to 10 hours to obtain dried strawberries, but if you want even more crispiness, you can wait 10 to 14 hours.
Then turn off the device and wait 20 to 30 minutes for the strawberries to cool.
Storing dried strawberries
Dried strawberries will keep in an airtight container for 6 to 12 months after dehydration.
Shaking the container once a day for one week is advisable, allowing the pieces to be redistributed and preventing the last residues of flesh from sticking together.
Some recipe ideas
Dried strawberries can be incorporated into morning cereals, yogurts, smoothies, cakes or salads.
Adnoor is the ideal platform to get the best quality dried fruits, nuts, seeds, and basmati rice in Canada. We have been the wholesale supplier of rice and dried fruits in Canada for the last 25 years and are the best rice brand in Canada. We are the co-packers and wholesale distributors of various nuts and grains and aim to provide our customers with the best quality products so they keep trusting us.