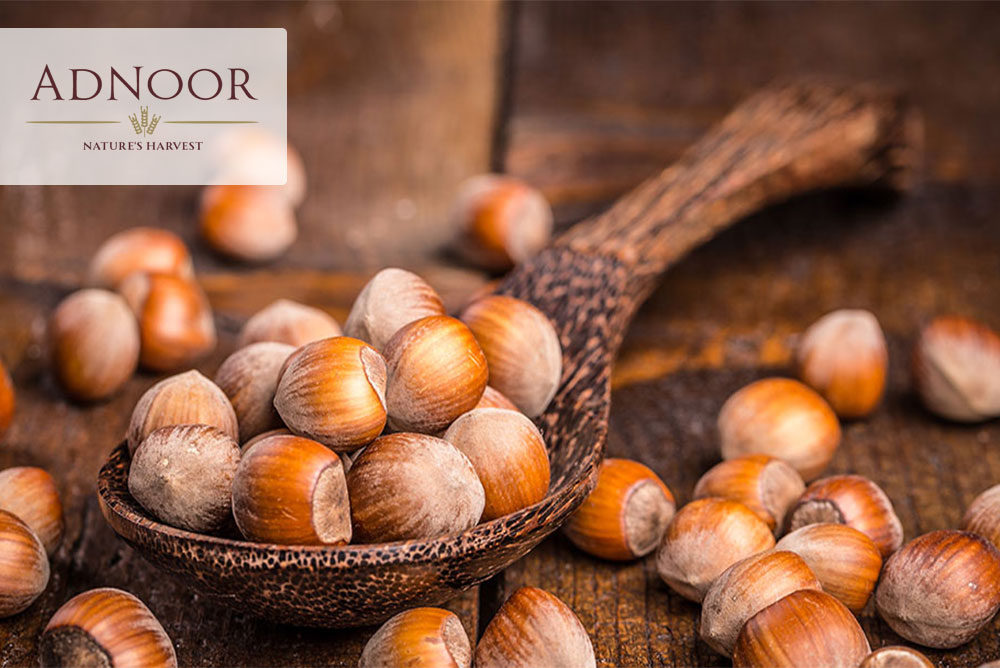 Autumn has set in. Nature is taking on shimmering colours, the days are getting shorter, and we are craving comfort foods more and more. And if we feasted with the pearl of the season: the hazelnut. The hazelnut is a fruit of a hazel tree and possesses antioxidating and satiating properties. Apart from numerous health benefits, you can use it in various dishes, either sweet or savoury. In addition to delighting our taste buds with its subtle taste, it is also a superfood for our health.
A Fruit Eaten Since Prehistoric Times
The hazelnut has been a popular fruit since prehistoric times. Its consumption then spread during antiquity and has survived the centuries to the present day. Like many fruit trees, hazel originates from Asia Minor. It is now widespread throughout the northern hemisphere, particularly in seaside areas. The first country producing hazelnuts in the world is Turkey, followed by Italy. Hazelnuts are now being produced in different regions of the world.
What Are The Properties Of Hazelnut? Why Are They Good For Health?
The hazelnut has many health properties:
source of monounsaturated fatty acids;
rich in dietary fibre;
antioxidant;
good content of vitamins and minerals;
promotes cardiovascular health.
Health Benefits: Why Is It Good To Eat Hazelnuts?
Hazelnut has many health benefits.
Hazelnuts, Proteins, and Fibres
It is nourishing and satiating and rich in protein, fibre, and monounsaturated fatty acids.
What are proteins used for? They play a structural role and participate in the renewal of muscle tissue, appendages (hair, nails, and body hair), bone matrix, skin, etc. Proteins participate in many physiological processes, such as digestive enzymes, hemoglobin, hormones, receptors or immunoglobulins (antibodies). Fibres contribute to the proper functioning of the digestive system and intestinal transit. They are also involved in the prevention of cardiovascular diseases and the control of type 2 diabetes.
Hazelnuts and Cholesterol
Researchers have shown in a 2010 publication that the consumption of hazelnuts – and more widely of nuts (hazelnuts, almonds, or walnuts) – reduces total cholesterol by up to 5% (including a 7% drop in bad cholesterol (LDL).
A Good Source of Antioxidants
The hazelnut is an ally for health and youth and is very rich in antioxidants (phenolic acids, flavonoids, vitamin E, and tannins). Its antioxidants act to prevent premature aging of cells, as well as diseases linked to cell degeneration (Alzheimer's, Parkinson's, etc.) and the appearance of certain cancers.
Hazelnuts are rich in vitamin E: "Vitamin E is the common term for four tocopherols (alpha, beta, delta, and gamma) and four tocotrienols (alpha, beta, delta, and gamma) which have different antioxidant activities Its main property is its antioxidant function, allowing, in particular, because of its lipophilicity, to limit lipid peroxidation Its antioxidant power depends on synergistic and complementary effects with other antioxidants both of endogenous origin and exogenous such as vitamin C or carotenoids." Vitamin E is also an ally of the immune system.
Another advantage of the hazelnut, it is a source of magnesium. 70% of the population does not meet its daily needs for this mineral.
A Superfood with Antioxidant Properties
The hazelnut benefits from excellent nutritional qualities. Like other nuts, it is rich in fibre, protein and lipids, which makes it a nourishing and satiating food.
It is also a great ally in protecting our cardiovascular health. Indeed, hazelnut contains a high content of monounsaturated fatty acids, better known as omega 9. These omega 9s have the effect of regulating the level of cholesterol in the blood: on the one hand, by increasing the level of "good" cholesterol (HDL) and, on the other hand, by lowering that of "bad" cholesterol (LDL). They also play a role in the prevention of type II diabetes and metabolic syndrome.
Vitamin E, present in the hazelnut, reinforces its cardio-protective effect. This powerful antioxidant helps protect all the cells of the body and helps fight against skin aging. Therefore, hazelnut oil is an excellent cosmetic product for moisturizing and regenerating the skin.
Hazelnuts are an excellent source of minerals such as copper and manganese, which also have antioxidant power while promoting the proper functioning of our metabolism. Copper also participates in the proper functioning of the immune system, the transport of iron in the body and the pigmentation of the skin and hair.
A Treasure of autumn to Consume All Year Round
The hazelnut season extends from the end of August to the beginning of November. As they are very easy to store, they can be consumed all year round. Do you have a hazel tree in your garden? Perfect! Take advantage of the season to stock up. In their shells, hazelnuts keep perfectly in the open air for several months. If you are a fan of nature walks, you can take advantage of a beautiful autumn day to go pick wild hazelnuts. Hazel trees are often found at the edge of the forest.
In season, you will also find fresh hazelnuts in the fruit and vegetable sections. Do you prefer to buy already-shelled hazelnuts? No problem! These are the ones that are most easily found on the market all year round.
It is interesting to note that hazelnuts are also available in powder, vegetable drinks, puree, and crushed. All these versions are now available in organic stores and supermarkets. When shopping, remember to favour organic and local products when possible.
A Sweetness to Consume At Any Time of the Day
The hazelnut can be eaten as it is or slipped into different recipes. In powder, in the form of a vegetable drink, crushed, it can be eaten at all meals!
Hazelnut Milk
Hazelnut milk is particularly appreciated for its sweet taste and smoothness. It is an ideal gourmet solution for people who are lactose intolerant or simply if you are looking for a vegetable alternative to cow's milk. It can be perfectly used in your cafe latte, pancakes and other porridges.
The Whole Hazelnut
A craving? With its high energy value, the hazelnut is ideal as a snack. A handful will fill you up and keep you going until lunch or dinner.
Hazelnut Powder
Crushed or powdered, it sublimates many desserts. Of course, when we think of hazelnut, we think of the classic and delicious praline that goes wonderfully with cabbage, ice cream, cakes and chocolate. However, hazelnut also goes very well with apple. For a healthy and original snack, why not try hazelnut powder and apple cake?
The Spread
How can we talk about hazelnuts without talking about the spread? This gourmet star, which some enjoy for breakfast, others as a snack, should be consumed in moderation. Indeed, its high concentration of sugar and fat can have harmful consequences on our health. However, we can quite give ourselves a little pleasure from time to time, provided we choose a quality product that respects the environment. Today, many brands available in organic stores and supermarkets offer products without palm oil or hydrogenated fats, based on organic ingredients and without preservatives. Take the time to read the labels, keeping in mind that in absolute terms, to make a spread, you need hazelnuts, sugar and cocoa, and that's it!
Salty Version
Salty version, the hazelnut will find an ideal place in your autumn salads and your savoury pies. Crushed, it will bring a good dose of crispiness, while the hazelnut oil will sublimate your preparation with its subtle fragrance. Also, it goes particularly well with goat or sheep cheese and poultry. Do you like savoury crumbles? Remember to add hazelnut powder to the preparation of your dough. In a pumpkin crumble, success is guaranteed! You can also offer shelled hazelnuts with a touch of salt as an aperitif to change from the usual peanuts.
Calories: Are Hazelnuts Fattening?
Several scientific studies show that despite their high caloric content, hazelnuts and other oilseeds do not cause weight gain. The explanation could come from certain compounds which make the absorption of lipids incomplete by an increase in satiety or metabolism. A healthy snack with a quick effect on satiety.
Hazelnuts have a glycemic index of around 20.
Hazelnut Identity Card
The hazelnut is a shelled fruit (fruit with a hard shell), also called filbert; it is the fruit of the hazel tree native to Asia Minor. There are several species, the common hazel (C. avellana) and the Byzantine hazel (C. colour). The shrubs thrive in areas that enjoy mild winters and cool summers, the climate found by the sea.
The main hazelnut crops are, therefore, naturally located in Turkey, Spain, France, and the United States (in Oregon).
The majority of world production comes from Turkey (75%), followed by Italy (15%) and the United States (5%). 
How to Eat Hazelnuts?
The hazelnut can be eaten dry or fresh; in any case, it can be eaten raw in a hot or cold dish.
Hazelnuts fit perfectly into sweet preparations such as cakes.
In savoury dishes, they can be incorporated into fish or poultry. They are also perfect in green salads or to accompany cheese.
Hazelnuts are also the base ingredient of famous spreads. Hazelnut oil is also interesting in salads.
Contraindications and Allergies
Like other tree nuts, hazelnut is a known allergen that can cause allergic reactions in sensitive people.
Its consumption should also be limited in subjects suffering from urinary stones.
The Canadian Food Inspection Agency (CFIA) gives the generic name "nut" to designate all nuts and oilseeds.
However, some people may be specifically allergic to hazelnuts or to several shelled or oleaginous fruits. Moreover, several nuts form a group whose allergies are strongly associated (hazelnut, walnut, pecan nut, coconut, almond, Brazil nut, and cashew nut). A person allergic to one of these fruits is more at risk of being allergic to others.
In addition, it is usually recommended that people allergic to peanuts also refrain from consuming other shelled and oleaginous fruits (including hazelnuts) since they also have a high allergenic potential and are often handled and distributed by companies specializing in peanuts. Symptoms of tree nut and oilseed allergy can be severe and lead to anaphylactic shock.
How Do You Know If A Hazelnut Is Good?
The fresh hazelnut is sold with its shell, which must be very green; when you shake the fruit, there should be no noise; this means that the shell is still full.
It keeps for a few days. The harvest begins at the end of August, and the season lasts until the beginning of November.
The dry hazelnut has a brown, shiny shell; it should not have holes or cracks. It can be kept for several months in the open air.
The shelled hazelnut can be stored in an airtight container.
How many hazelnuts can you eat per day?
Consuming nuts every day is recommended; limiting yourself to a handful of hazelnuts per day or about 40 grams is better. Hazelnuts are a food of choice as part of a varied and balanced diet.
Also, try a few drops of hazelnut oil to enhance an orange carpaccio.
Recipe Ideas with Hazelnut 

Double Chocolate and Hazelnut Cookies
Preparation: 15 mins
Cooking: 15 mins
The cookie is a classic snack or dessert. Thanks to this recipe, you will make 12 of them. They are delicious, and you will have a hard time letting them cool.
Ingredients
40g hazelnuts
40 g dark pastry chocolate – 2 bars
165g flour
100g sugar
35g white chocolate powder
One pinch of salt
100g butter
One egg
0.5 sachet of yeast
Preparation
Coarsely mix the hazelnuts and chocolate.
Mix the dry ingredients (flour, sugar, white chocolate powder, yeast and salt) in a bowl.
Add the softened butter and cut into small pieces. Mix by hand.
Then add the egg and mix again.
Then put in the dough obtained the hazelnuts and the chocolate. Form a big ball.
Divide this ball into 12 small balls and place them on the baking sheet covered with baking paper.
Bake at 180°C (th.6) for 15 minutes for soft cookies and more for crispy cookies. Watch because the cooking is very fast!
In short, the hazelnut is an ally to preserve the health of our cells while offering a multitude of possibilities in the kitchen.
Adnoor is the ideal platform to get the best quality Dried Fruits in Canada. We are the wholesale supplier of dried fruits, raisins, nuts, and basmati rice in Canada.