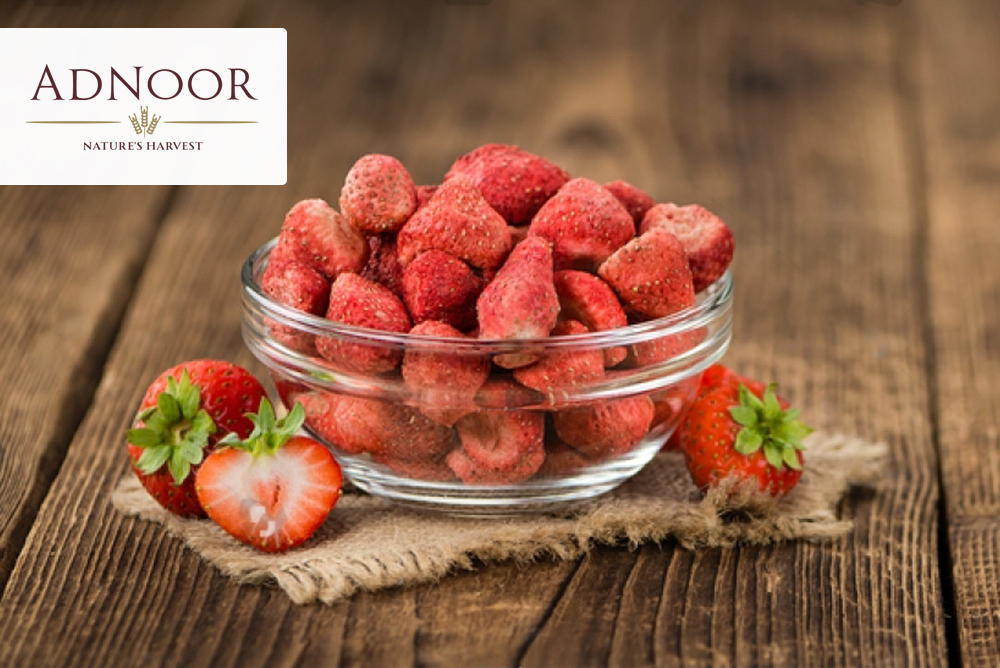 The strawberry, this little delicacy of the beautiful days that we love so much, is one of the favourites of the gourmands.
Fresh, its conservation is limited to one or two days. So why not make dried or dehydrated strawberries to keep them longer? Especially since dehydrated strawberries are rich in fibre and vitamins. Enough to brighten up your aperitifs, your cereals and many other recipes! Here are our tips for making beautiful homemade dried or dehydrated strawberries from your strawberries:
When to Make Dried Strawberries?
Depending on the variety, the strawberry harvest will take place from May to October. The non-remontant varieties will produce from May to June, during the remontant varieties from May until October for the most productive. We can thus make dried strawberries during this summer period. Care must be taken to select strawberries that are ripe but also firm. Ideally, one must dry fresh strawberries immediately after harvest.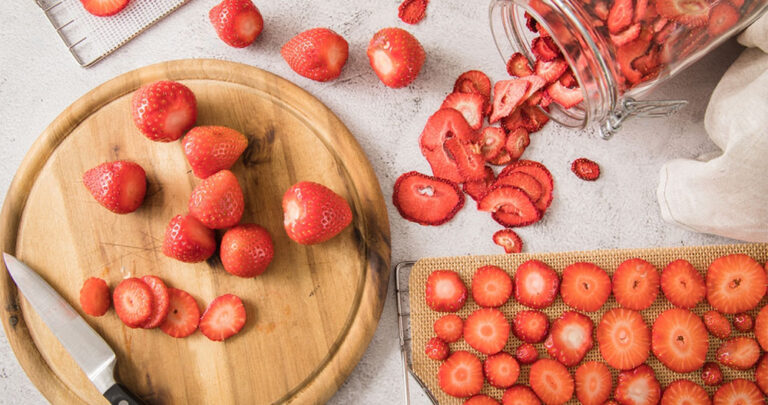 What Are The Best Varieties Of Strawberries To Dry?
Here is our selection of the best strawberries to make your dried strawberries:
With a sweet and slightly acidic taste, the strawberry charlotte will give you beautiful crisp and firm fruits. This remontant variety will produce beautiful strawberries from June to October. This variety also exists organically.
The Strawberry Ciflorette, with a rich taste and a good balance between sugar and acidity, will yield good fruit from May to June. This variety, which also exists organically, can be combined with other remontant varieties.
The strawberry gariguette is an early variety. Thus, you will have fruits with firm flesh, fragrant, sweet and slightly acidulous from May to June. Ideally, associate this variety with other remontant strawberries. Gariguette strawberries also exist organically.
With a fragrant wild strawberry taste, the Mara des Bois strawberry plant is a repeat-flowering variety offering fruit from June to October. They are also available organically.
The Cirano strawberry plant, with firm, sweet and fragrant flesh, is a repeat-flowering variety offering fruit from June to October.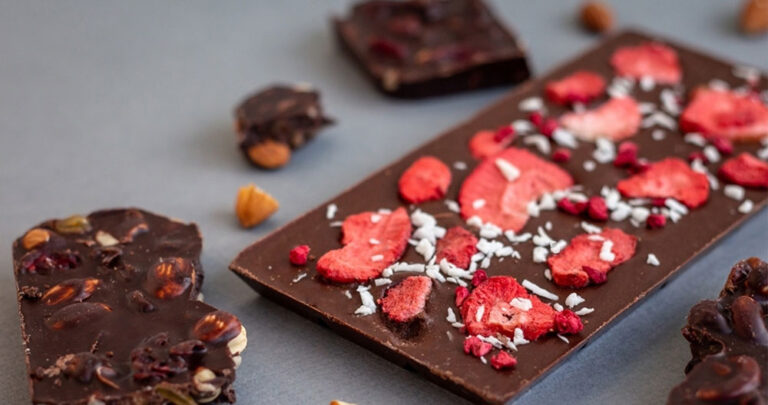 Other varieties of strawberries will also be perfect for making your dehydrated strawberries as long as the chosen fruits are firm and ripe.
How to Make Dried Strawberries?
There are two techniques, and the 1st is to dry your strawberries in the oven. The second, the one we recommend the most, is to use a dehydrator to obtain dehydrated strawberries. This second technique is not to be confused with freeze-dried strawberries. Indeed, freeze-drying is an industrial technique which consists of removing the water contained in food by freezing. Here are the two step-by-step techniques:
Steps To Make Oven-Dried Strawberries:
Wash the strawberries
Dry the strawberries using a paper towel.
Hull them
Cut your strawberries into strips. Note that the thicker the strips, the longer the cooking time. We advise you to cut into strips 2 to 3 mm thick using a knife or a mandolin for a shorter duration.
Cover your baking sheet with parchment paper and arrange your strawberries without overlapping them.
Bake at 140°C (thermostat 4-5) for 30 minutes.
Turn your strawberries over and cook for 30 minutes, watching every 10 minutes at the end of cooking. The colour of your strawberries should then be deeper without turning black. If your strawberries still seem moist, add 10 minutes of additional cooking under supervision.
Take your plate out of the oven and let it cool before removing your dried strawberries.
Note: You must dry your strawberries perfectly for conservation, do not hesitate to put your strawberries back in the oven for a few more minutes if in doubt. You can also remove the dried strawberries as you go from your oven to prevent them from turning black.
The Steps to Make Dehydrated Strawberries:
Wash the strawberries
Dry the strawberries using a paper towel.
Hull them
Cut your strawberries into strips. Note that the thicker the strips, the longer the dehydration time. We advise you to cut into strips 2 to 3 mm thick using a knife or a mandolin.
Arrange your strawberries on the plate of your dehydrator without overlapping them.
Dehydrate your strawberries at a temperature between 50 and 60°C for 6 to 10 hours, depending on the thickness of your strawberries and if you want them to be rather soft or rather crispy.
Allow cooling by turning off and opening your dehydrator.
Check that your strawberries are completely dried. Otherwise, put it back in the dehydrator for 1 hour.
How to Store Dried Strawberries?
You can store your dehydrated or dried strawberries in a glass jar, 3/4 full. During the first week, we advise you to shake the jar in order to distribute the residual moisture evenly.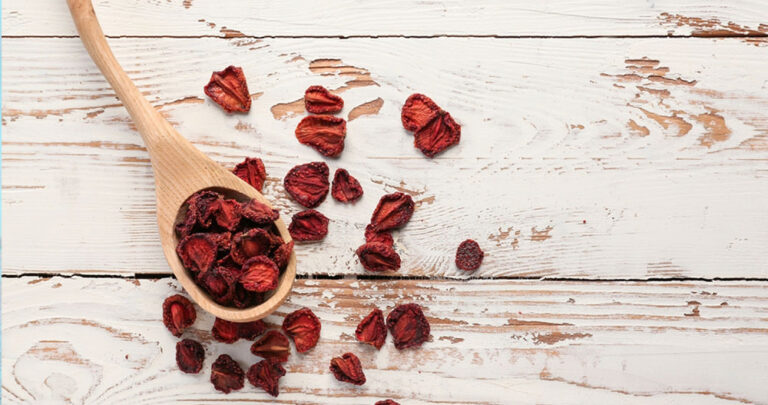 Note that if condensation appears on the jar, it means that your strawberries have not dehydrated enough and that there is too much humidity. You will then have to put them back in the oven or the dehydrator for a little longer.
Keep your jar for one month or 2 in a dark, unheated, dry place.
What Are The Recipes To Make With Dried Strawberries?
There are so many ways you can use your dried strawberries! Whether to eat directly or as an aperitif, here is a small list of ideas:
Add your dehydrated strawberries to your cereal.
Add a strawberry to your tea or infusion.
Rice pudding with dried strawberries
Dried Strawberry Cookies
cream dessert with dried strawberries
Cottage cheese with dehydrated strawberries.
Far Breton with dried strawberries
in decorating cakes and ice cream
muffins and cake with

dried strawberries

Madeleine with dehydrated strawberries.
Note: it is possible to rehydrate your strawberries if you want to use them, for example, in a pie. All you have to do is soak your strawberries in lukewarm water for several hours.
What Are The Benefits Of Dried Strawberries?
The strawberry is a fruit containing a lot of water. As a result, dried strawberries are much higher in fibre and minerals such as calcium, potassium, magnesium, vitamins, iron, and antioxidants. Thanks to their concentration, dehydrated strawberries are also rich in energy and carbohydrates, an asset for athletes!
To get the best quality dried red barberries, Raisins, basmati rice, nuts, seeds, and dried fruits, visit the ADNOOR website. We have been the importers, exporters, wholesalers, distributors, and co-packers of various nuts and grains in Canada for the last 25 years. We are the best rice suppliers in GTA. We continuously strive to provide our customers with the best quality products at a reasonable price. For more details, visit our website.