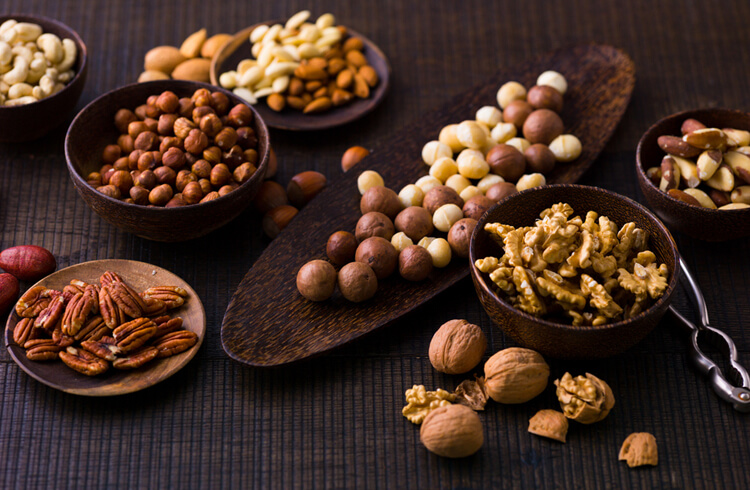 You may be wondering why you should order dried fruits online when you can get fresh ones at the market. Here are some reasons:
Taste
Dried fruits have a lower water content than fresh fruits. Among other things, it intensifies the taste. Even dried watermelon, which often tastes watery, becomes a real taste explosion. And dried papaya is a fruity-sweet substitute for candy bars – with no added sugar! Unlike many processed candies, most dried fruits are low-fat or fat-free snacks.
Dietary Fibre Content
During gentle drying or dehydration, the concentration of all other ingredients also increases. Dried fruits, such as apple crisps or unsulphured dried apricots, are often distinguished by their high fibre content, for example. For the same amount, you should eat a lot of fresh fruit. Dried fruit can help meet the DGE's recommended dietary fibre intake of at least 30g per day.
Natural sugar content
Fruit sugar, which dried fruits contain naturally, is an excellent alternative to refined sugar. High-quality dried fruits, such as dates, are ideal for sweetening cakes, desserts, and smoothie bowls. On the taste side, the dried fruits of your creations are rarely disturbing and much more enriching thanks to their natural sweetness.
Shelf Life
You bought semi-green bananas, and overnight, they ripened into dark brown specimens that you need to use immediately. This does not happen with quality dried bananas. The fruit's own sugar acts as a natural preservative in the (freeze-drying)/dehydrating of fresh fruit and makes the dried fruit durable for a long time without artificial additives. Plus, preservation lets you enjoy your favourite fruits, like strawberries, in dried form, even out of season.
Large Dried Fruits
Drying removes most of the water from fresh, ripe fruit, resulting in intense flavour and natural preservation. Thanks to the long shelf life, you can buy dried fruits of any colour and shape inefficient bulk packs, and, unlike fresh fruit, you don't have to worry about them spoiling quickly.
Companies tend to save transport routes and packaging material with bulk packaging. In addition, the manufacturers are satisfied with good sales in large quantities, ensuring they are rewarded for their work. And that means you can buy dried fruit online at a great price.
Various Dried Fruits
The list of dried fruits available in the market is very long. In addition to the classic dried fruits, there are also freeze-dried fruits, puffed dried fruits, freeze-dried fruit powder and a fine selection of dates.
At Adnoor, you can easily order dried fruits online and have them conveniently delivered to your home.
Dates
Dates are among one the most cherished dried fruits. But each variety has its specificity, and one will be better than another, depending on the use.
For example:
Medjool dates
Deri dates
Ajwa dates
Ameri dates?
Dates are available in different pack sizes, so you can decide whether to take the risk of ordering just one kilo of dates – which will no doubt be consumed faster than you think – or if you prefer to play it safe and order 5 kilos directly!
To get the best quality basmati rice, nuts, seeds, and dried fruits, visit the ADNOOR website. We have been the importers, exporters, wholesalers, distributors, and co-packers of various nuts and grains in Canada for the last 25 years. For more details, visit our website.