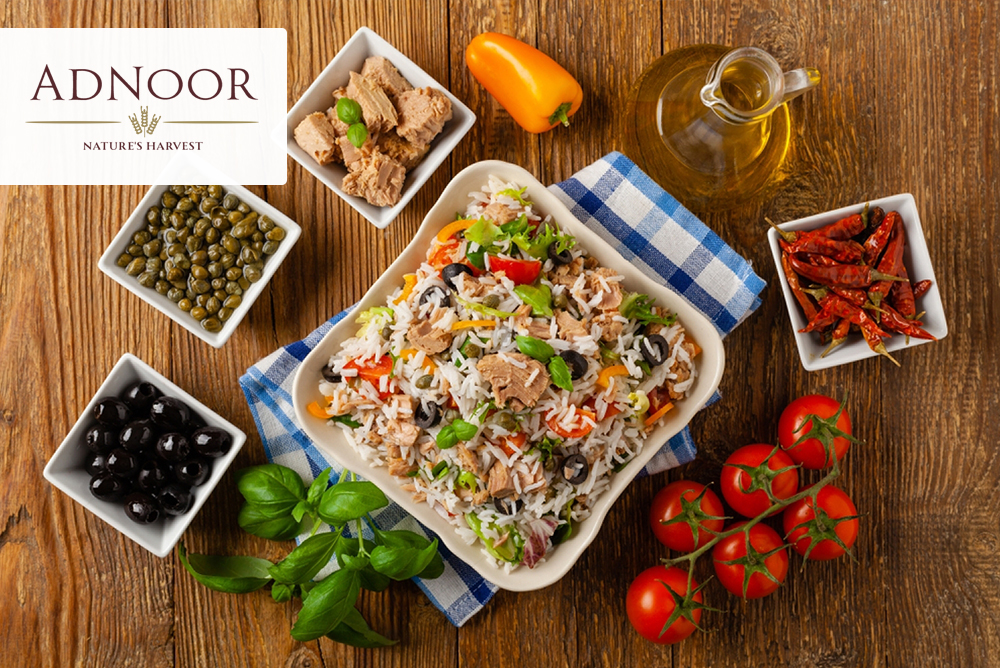 Rice cake like in Italy, flavoured with orange, full of poetry; a fragrant and comforting delight that goes back a long way in time (we will tell you about that later). A precious, generous, rare and noble that has become contemporary and very accessible. Easy and even from the closet.
There are different variations, from a simple basic recipe (traditional but still contemporary) to added candied oranges (often especially for Easter, candied fruits such as citron or orange are added) and a touch of orange blossom water. This will turn into a simple, nutritious cake (serve it as a snack or after a light meal), which keeps well.
The Italian Rice Cake: Origins
This is a very old dessert that dates back to the Middle Ages but has been known under the proposed version (especially in Emilia Romagna, the best known, but there is also a version in Tuscany) since the 15th century.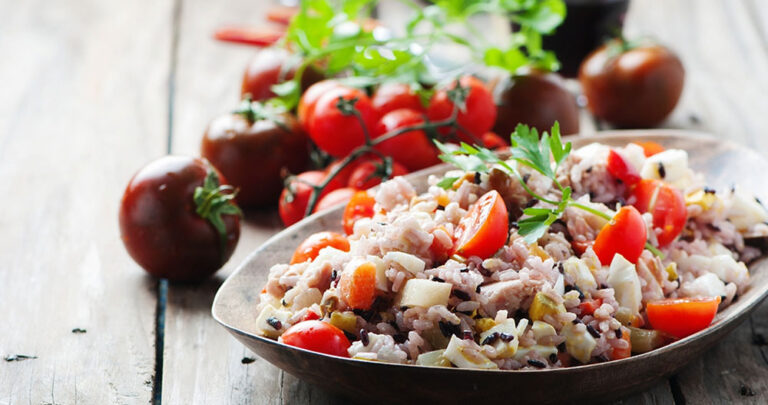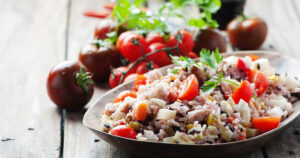 Originally it was a luxurious dessert, reserved for the noblest because it was composed of rice (rare and expensive, imported because not yet produced locally), almond milk (as in blancmange), which was expensive, such as almonds, and of course, sugar, a precious commodity not to mention candied fruit (a more recent addition, especially on the occasion of Easter) and sometimes even spices such as saffron or vanilla.
This rice cake became more popular and accessible therefore in the 20th century. This cake (torta) is still served in the form of a diamond, in some villages, especially during Corpus Domini. This festivity closes the Easter celebrations (which take place in June in Italy). It is also called torta degli addobbi (because the windows were all decorated).
The basic recipe (there are a number of versions according to families, villages and even an official version, which we will tell you, provides in variable quantities: rice, milk, sugar, and butter for the mould as well as breadcrumbs, almonds, eggs and lemon zest to flavour (the spice of the poor Italian). But you have richer versions with raisins, pine nuts, candied fruit (orange and citron), amaretti, and liqueur (orange, almonds or even anise).
There are, of course, rice cakes from other regions like Tuscany but also from other countries. We are talking in particular about the Belgian rice cake.
Italian Rice Cake Ingredients
milk
Round rice (arborio or Camargue goes very well)
sugar
eggs
pinch of cinnamon
crushed and blanched almonds or roasted almond powder
Vanilla (we replaced it with orange blossom water, a nod to similar cakes from southern Italy). Very good quality walnuts can replace them.
Candied orange or raisins (good quality!)
lemon or orange zest
butter for the mould
The Three Steps to Make This Orange-Flavored Rice Cake
They are very simple:
Cook the rice in the milk (like a rice pudding, but it will be a little denser). Perfume it and make it lukewarm.
Then add the eggs one by one (important for good absorption). In some recipes, the egg yolks are incorporated, then the egg whites. If, at the time after baking, the cake appears softer, then it dries quickly. So opt for the more basic version.
Pour the mixture into the mould and bake in the oven.
Preparation of Italian Rice Cake Flavoured With Orange
Servings: 6 People
Recipe Equipment
Ingredients
60 cl whole fresh milk
120 g round rice (arborio o originario type)
100 g sugar
2 large eggs
50 g crushed blanched almonds (and roasting is better)
40g candied orange
4 drops of green mandarin essential oil (edible)
2 tbsp orange blossom water (or a typical orange liqueur, amaretto, rum or anisette)
butter
Corn starch (if gluten-free) or flour for the mould. Traditionally breadcrumbs were used.
butter for the mould
Instructions
Pour the milk into a saucepan with the sugar and lemon zest.
Bring to a simmer and add the rice.
Cook over low heat for at least 30 minutes while stirring regularly (but not all the time until the rice becomes fluffy and has absorbed the milk (but not completely, it will still do so as it cools)
Turn off, and add the diced candied orange, the essential oil, the almonds and the orange blossom water.
Leave to rest for about twenty minutes.
Then add two eggs at a time (waiting for the absorption of the first egg before adding the second).
Butter and flour (with starch or flour) in an 18 cm round metal mould (important for baking). Tip for better unmolding: butter the bottom of the mould, place a disc of baking paper on it and butter and flour the sides.
Preheat the oven to 180°C (convection heat)
Pour the preparation into the mould, tap to smooth it and bake for about 30 minutes: the cake should rise slightly and colour, especially on the edges.
Leave to cool slightly, then unmold onto a dish or plate.
Leave to cool completely, then sprinkle with icing sugar.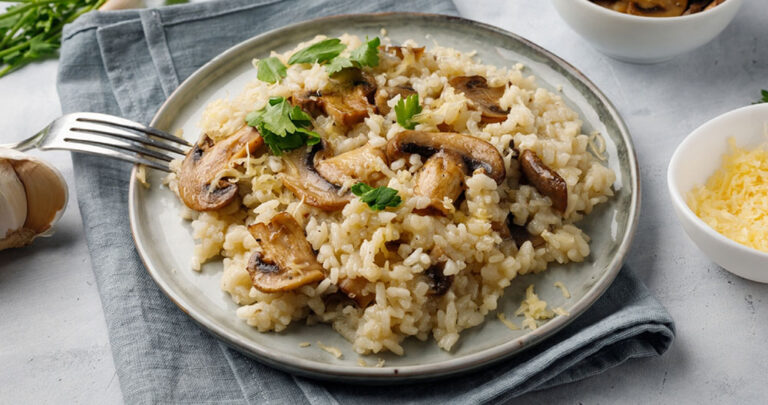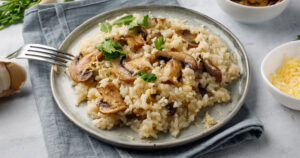 Tips
Storage: this cake is very good a few hours after preparation but keeps well for two days at room temperature in a cool (so not if it's hot) and dry place, well covered with cling film or under a bell jar or cool. Remember to take it out an hour before tasting it.
Italian Variants:
On this basis, you can replace the candied orange with candied citron or raisins soaked in water or liqueur.
Change the flavours: omit the orange and flavour with a vanilla pod, cinnamon or more simply with citrus zest.
Replace the almonds with pine nuts, pistachios or walnuts (very good quality and soft) as in the Tuscan version.
Add two egg yolks for a slightly creamier finish.
Omit the oranges and replace the almonds with amaretti crumbs (very dry and almond-flavoured). Also, add one drop of essential oil (or 1 tsp of bitter almond aroma) or 2 tbsp of amaretto.
Replace the icing sugar with liqueur: using a toothpick, make holes in the cold cake and pour in 1 to 2 tbsp of liqueur.
Make a chocolate variant or even in two colours by adding 2 tbsp of unsweetened cocoa.
Without dairy products: replace the milk with almond milk and the butter with margarine.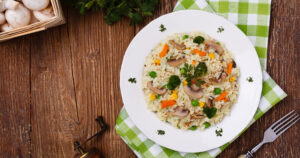 Visit the ADNOOR website for the best long-grain rice, golden Sella basmati rice, brown rice, white rice, Super Kernel Basmati Rice, nuts, seeds, and dried fruits. We take pride in saying that we are the Best Basmati rice suppliers in GTA and have been the importers, exporters, wholesalers, distributors, and co-packers of various nuts and grains in Canada for the last 25 years. We aim to provide our customers with quality products, so they keep trusting us. So without wasting time, visit our website and order what you need.