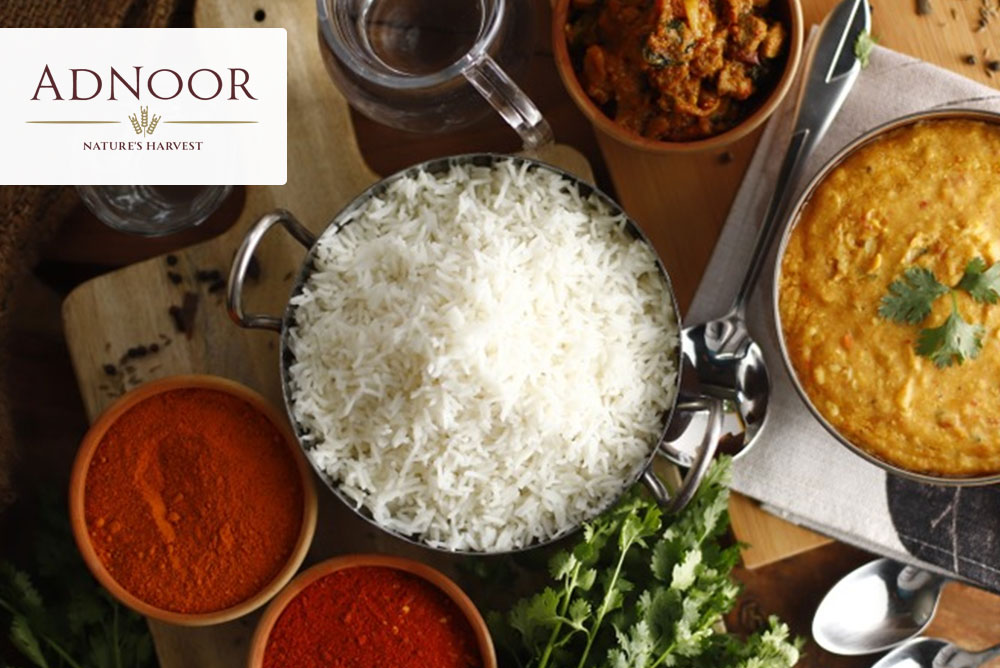 In India, it is said that the quality of his rice measures the talent of the person who cooks for the family. Basmati is a particular and rare rice whose long and fine grains must soak up water during cooking without sticking, unlike its Japanese and Thai cousins.
After cooking, the grains are even more elongated, giving the rice an exceptional lightness. It has long been consumed only in India by the privileged classes of society. Suppose it has become somewhat democratized and, above all, internationalized. In that case, it is still produced in small quantities, and it is far from being found on all the tables of the sub-continent. There are, therefore, a number of rice names in India, and basmati is only one exclusive, among others, and it is delicious. When it is not served white as an accompaniment, it is today the rice which most often enters into the composition of the famous biryani.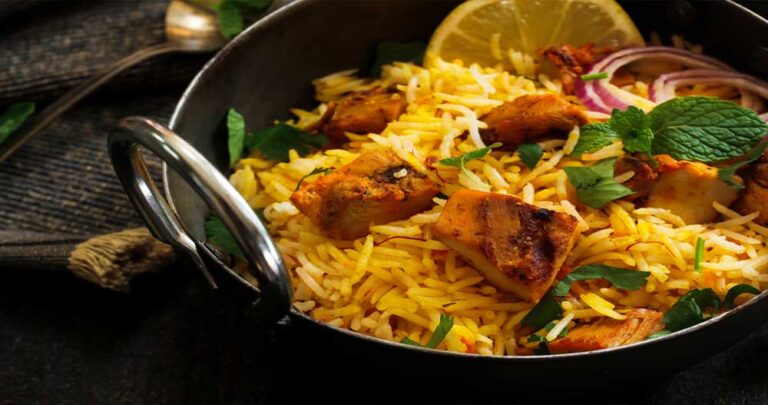 It is a very fragrant rice (basmati means "Queen of perfumes" in Hindi), and it is generally marketed only one year after harvest to take the time to further develop its aroma. Like Thai rice, it gives off a wonderful aroma while cooking and fills the whole kitchen with a rich, nourishing smell, much like baking bread.
Which Rice to Buy?
Quality basmati rice can be found in supermarkets and organic stores. It's the one that we use most often, and we use it to accompany Indian dishes, but also all kinds of dishes. This rice does not reheat well and must be tasted immediately after cooking. But if you have leftovers, it is delicious in fried rice.
Dosage:
A simple rule: 1 glass of rice, 1.5 glasses of water, and one pinch of salt.
Rice is an accompaniment, but in India, it is served in smaller quantities than with us, as the meal consists of several dishes to which everyone helps themselves. We will therefore count 40 to 50g of rice per person.
You will then need to measure your rice by volume (glass, cup, etc.) to calculate the water proportion easily. The standard is to count 1.5 parts water to 1 part rice, and some go as high as 2, but in the latter scenario, the grain gets too soft and tends to crush.
If you make it regularly, choose a reference glass or cup in your kitchen for 1 or 2 people, for example, and you won't need to weigh the rice afterwards. Measurements will be quick and easy.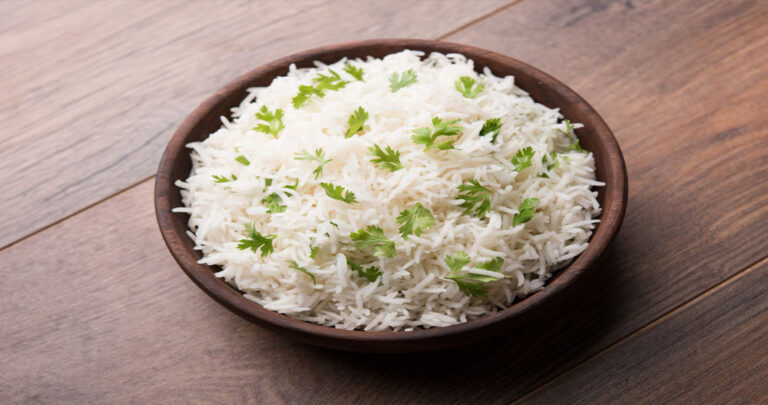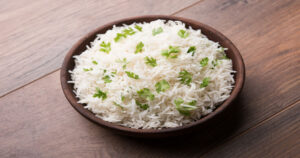 Rinse and Soak:
Like most Asian rice, basmati rice must be rinsed before cooking to remove excess starch (even if the packaging does not specify it). It is also better if you take the time to soak it, especially for cooking in a rice cooker.
After measuring its volume, place the rice in a large container and cover it with water. Stir it well and rub it lightly, then drain the water.
Repeat the operation until the water is almost clear (3 or 4 times is enough in principle).
Once the rice is washed, remove all the water to measure the amount needed for cooking (except for the "pasta" method, which will be discussed at the end of the article). Let it soak in water for about 30 minutes. You can skip this step if you are short on time, the rice will still be good, and you can let it soak for up to 2 hours if you rinsed it in advance.
Cooking Mode: 
In The Rice Cooker (Or Saucepan):
This is the cooking method that is mostly used. Dip the rice directly into the bowl of the switched-off cooker. Salt when you start cooking (1 to 2 pinches per portion).
Put the rice in the cooker before adding water.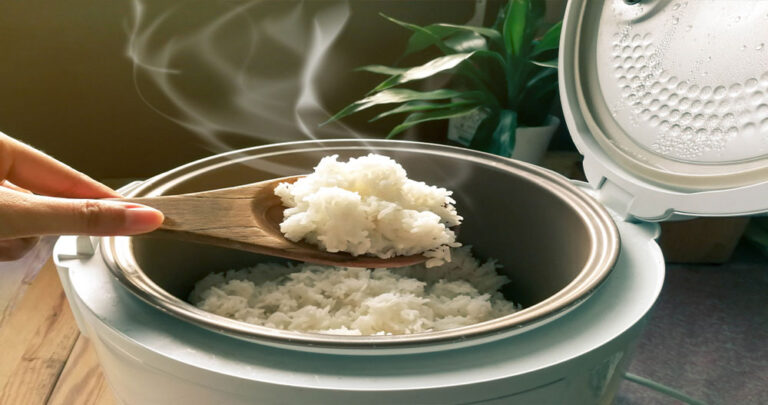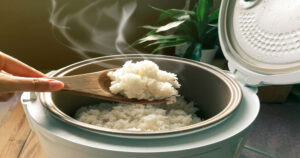 Put the cooker in cooking mode and cook. When cooking, let the rice rest for another 5 to 10 minutes before opening.
You can open the lid very quickly and lay out a clean cloth to absorb the excess steam, then close it very quickly and leave it to rest. Even though this technique is Japanese and not Indian, it gives a good result.
Then open the lid, the rice has swelled well, and the grains have stretched out.
At the end of cooking, the rice stretched out and puffed up.
Fluff the rice with a fork (or a flat rice spoon) to loosen the grains without crushing them.
Air the rice well when serving.
All you have to do is enjoy your rice. You can, to your taste, add a knob of butter which goes well with the basmati.
Other Cooking Methods:
Rice rinsed and dried to cook in a pilaf.
Pilaf Cooking:
Pilaf cooking, by absorption, with a little fat, is also very suitable for basmati rice. The method is similar to that in the cooker, but we start by browning the drained/dried rice in a little fat.
Place 1 tbsp. of ghee (Indian clarified butter) or oil, then pour the dry rice. Stir gently for 2 minutes to coat the grains well, as for a risotto.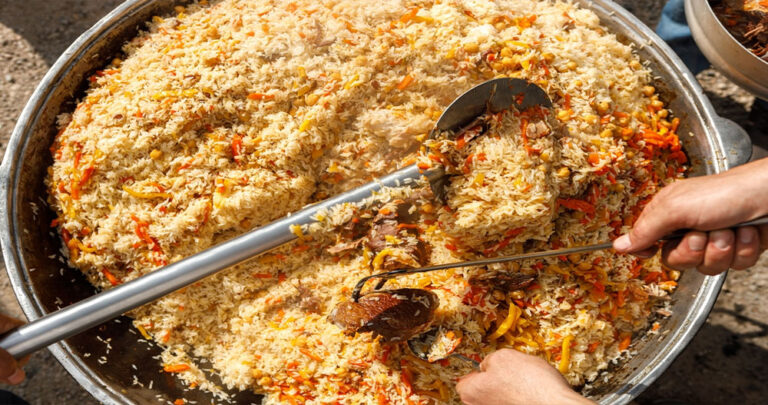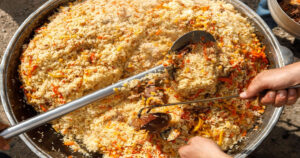 Then pour in the hot measured water (from the tap or in the microwave) so as not to cause thermal shock and break the rice. Wait for the boil, lower the heat to a minimum and cover.
Let cook for about 15 minutes. If you want to check the cooking at the end, open the pan very quickly so as not to let the steam escape. If it seems too dry, add a little water and continue cooking for a few minutes.
Then turn off the heat and let the rice rest for 5 to 10 minutes so that it swells well.
Cooking By Boiling ("Pasta" Method):
You can also cook the basmati, like pasta, in boiling water, draining at the end. Cooking should always start cold to avoid a thermal shock that would break the rather fragile grains. This method is quick and easy if you're short on time, but it doesn't do this precious rice full justice because it loses some of its flavours.
Visit the ADNOOR website to get the best long-grain rice, golden Sella basmati rice, brown rice, white rice, Super Kernel Basmati Rice, nuts, seeds, and dried fruits. We take pride in saying that we are the Best Basmati rice brand in Canada and have been the importers, exporters, wholesalers, distributors, and co-packers of various nuts and grains in Canada for the last 25 years. We are striving with the aim to provide quality products to our customers, and hence, they keep trusting us. So without wasting time, visit our website and order what you need.