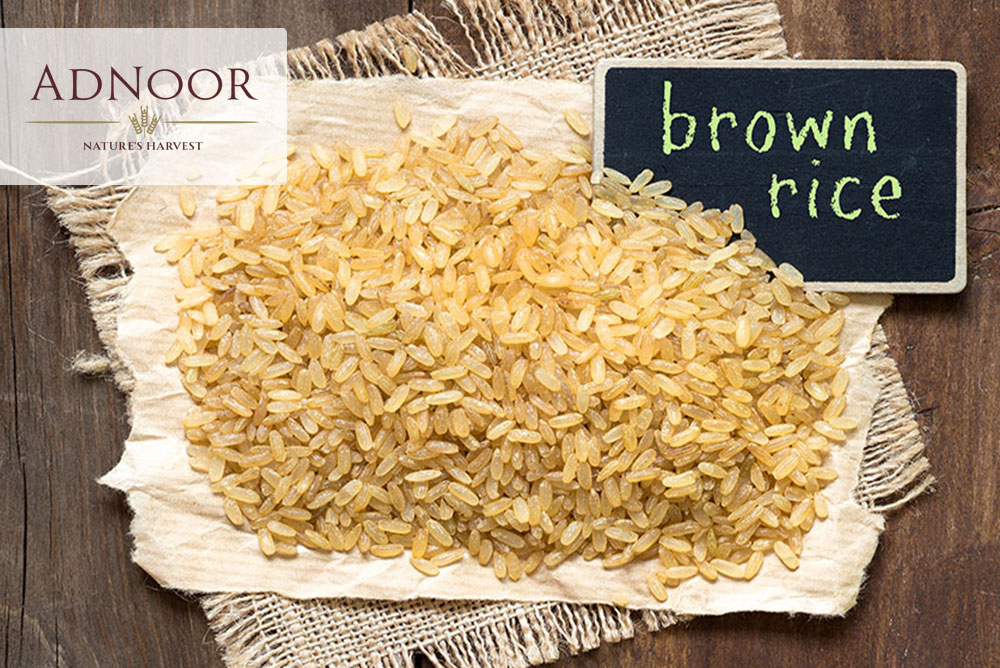 Brown rice (also called unhusked rice) is actually purified brown rice that hasn't yet had its outer husk removed. It contains all the basic nutrients and is rich in dietary fibre. Its appearance is brownish, and it does not stick. It is ideal for recipes requiring rice with a more pronounced taste.
Brown rice, carrots, and tahini sauce
Ingredients
One sachet of Brown rice with spelled and quinoa
120g lentils
4 tbsp. of tahini
1 tbsp lemon juice (fresh)
1 tsp grated fresh ginger
8 organic carrot tops
1 tbsp of zaatar
1/2 onion
One clove of garlic
3 spring onions
a good handful of arugula
seeds of 1/2 pomegranate
80g of feta
olive oil
salt and pepper
Preparation
Serve hot or cold, on individual plates or in a dish to share.
Prepare the sauce: in a food processor, mix the tahini, lemon juice and ginger. Adjust the texture by adding water little by little (+- 5 tbsp). Add salt and pepper to taste. Book cool.
Preheat the oven to 200°C. Cut the carrots in half lengthwise and place them in a baking dish. Add 1 tbsp of oil, 1 tbsp of water, the zaatar, salt and pepper. Mix well and bake for 20 minutes.
Meanwhile, cook the rice and lentils as directed on the package.
In a wok, heat 1 tbsp of olive oil. Add minced onion. When the onion is nicely coloured, add the minced garlic and continue cooking for 1 or 2 minutes. Add the rice and lentils and mix well.
Serve the rice in a dish to share or on individual plates with the sliced ​​spring onions and the arugula. Add carrots, pomegranate seeds and crumbled feta.
Serve with the tahini sauce.
Zucchini stuffed with brown rice, feta, and olives
Ingredients
75 g of brown rice
1 zucchini
3 tbsp olive oil
One chopped onion
One minced garlic clove
2 tbsp chopped parsley
Six black olives are pitted and cut into pieces.
100g crumbled feta
1 tbsp tomato puree
Preparation
Cook the rice according to the instructions on the package.
Preheat the oven to 200°C. Cut the zucchini in half lengthwise and hollow out the two halves with a spoon up to ¾ cm from the edges. Finely chop the flesh of the hollowed-out zucchini.
Heat two tbsp of olive oil in a pan. Brown the onion, garlic and zucchini flesh for 3 to 4 minutes over low heat.
Remove the pan from the heat and add the cooked rice to the zucchini mixture.
Add the parsley, olives and half the feta, and season with salt and freshly ground pepper.
Fill the zucchini with the rice mixture, pressing down well.
Place the zucchini in a greased baking dish and sprinkle the rest of the feta on top.
Mix the tomato paste with 100 ml of hot water, one tablespoon of olive oil, a little salt and pepper and pour into the bottom of the dish.
Slide the dish into the middle of the oven and brown the zucchini for 25 to 30 minutes.
Serve with a fresh salad.
Tomato soup with brown rice and basil
Ingredients
150g Brown rice
2 tbsp olive oil
One chopped onion
One clove of garlic finely chopped
500 g tomatoes, cut into pieces
2 tsp paprika powder
750ml vegetable stock
10g fresh basil
One spring onion, thinly sliced
Preparation
Heat the oil in a large saucepan and gently sauté the onion and garlic.
Add the tomatoes and the paprika powder, and cook for another 2 to 3 minutes.
Pour the broth over it and let it simmer for 10 to 15 minutes.
Reserve some basil for garnish, and chop the rest very finely. Add the basil and onion rings to the cooked rice.
Puree the tomato mixture using a blender until you have a smooth, slightly thick soup. Add a little salt and freshly ground black pepper to taste.
Serve the tomato soup on deep plates and pour a small mound of basil rice in the center. Garnish with a few basil leaves.
Trick
In winter, make this soup with a can of canned crushed tomatoes.
Brown rice with spinach and ricotta
Ingredients
350g Brown rice
One teaspoon of olive oil
600g mushrooms (sliced)
500g spinach
250g ricotta
100g red beans
350g Brown Rice + Lentils for extra flavor
75 g parmesan
Preparation
Cook the Brown Rice according to the instructions.
Meanwhile, heat the olive oil in a large deep saucepan. Cook and stir the mushrooms for 3 minutes. Add spinach, ricotta and beans and season with salt and pepper. Add the ricotta, mixing well with the vegetables.
When the spinach has reduced well, add the parmesan and the rice to the pan and mix again. And there you go! Super quick, super easy and delicious!
With fall approaching, we are more inclined to prepare a nice hot meal for rainy days. In order to prevent the flu, it is important to get enough exercise and eat a balanced diet. Lots of vegetables and healthy ingredients form the basis of a balanced diet. Spinach is a leafy green vegetable that is often considered a superfood. Green vegetables are high in healthy heart-healthy omega-3 fatty acids and folic acid. The high amount of iron present in spinach helps prevent anemia. In addition, spinach contains a natural substance that prevents the appearance of wrinkles.
Brown rice is a healthy alternative to white rice because it has a husk, so you get lots of extra nutrients. Vary with rice, quinoa or other cereals to eat in a balanced way. Besides their taste, these ancient grains are natural, unprocessed, and contain plenty of protein and antioxidants to maintain a strong immune system. Try this recipe for a delicious, filling meal in a jiffy!
Adnoor is the ideal platform to get the best quality dried fruits, nuts, seeds, and basmati rice in Canada. We have been the wholesale supplier of rice and dried fruits in Canada for the last 25 years and are the best rice brand in Canada. We aim to provide our customers with the best quality products, so they keep trusting us.