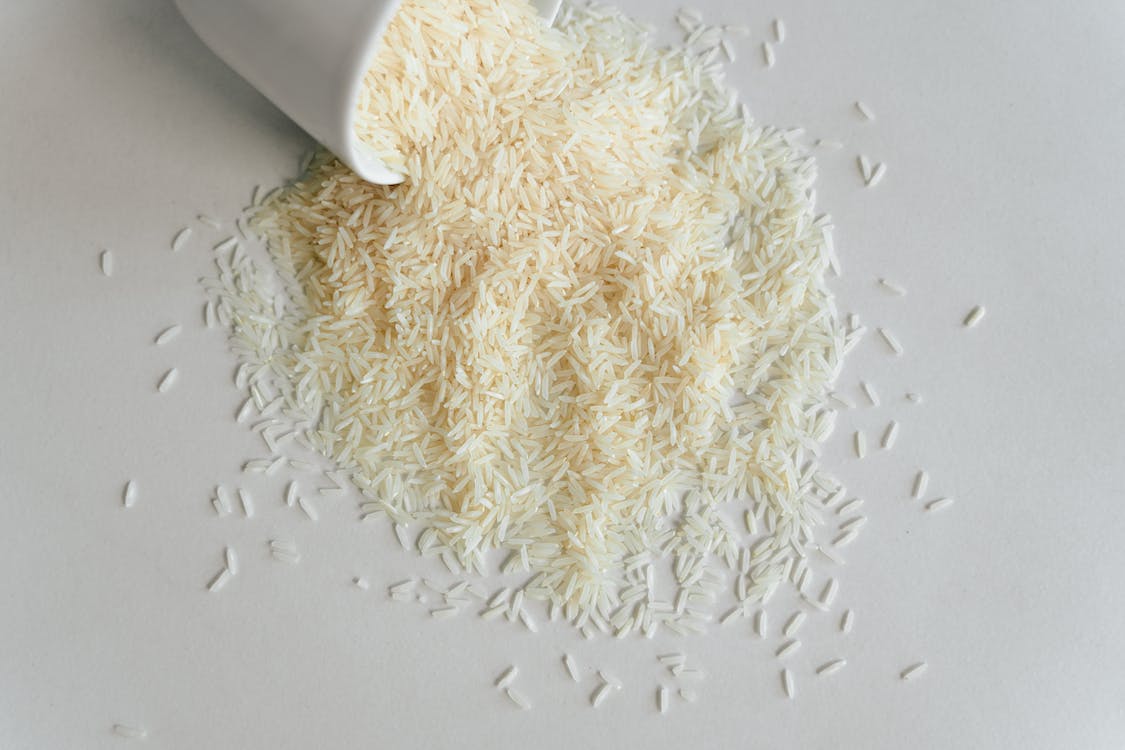 During the holidays, children suddenly have a lot of time. Sometimes it becomes difficult to occupy them. Luckily, you never have to look far! Cooking together, for example, can also be a form of craftsmanship. And you can also DIY with rice. Turn it into a toy, a musical instrument, or an original gift for Father's Day or Mother's Day, for example.
Of course, we don't want to encourage the waste of rice. That's why we also give some cool cooking tips to prepare rice with your children. Just simply eat it afterwards. Sometimes the rice remains edible even after playing with it. Do you have a packet of rice that has passed its expiration date? Don't throw it away! You can play with it!
Playing With Food?
Although we have always been taught not to play with food, perhaps we can make an exception. Additionally, uncooked rice does not yet count as food (although it is edible).
It can be very simple for the little ones among us. By dyeing the rice a few bright colours, you immediately have a simple sensory play material. You can stimulate almost every sense with it. The small grains of uncooked rice is hard and, therefore, easy to smell. This way, you immediately stimulate fine motor skills. It's also a fun way to learn colours. Hard rice grains make a nice sound when you drop them (perfect for making a musical instrument). Always use food colouring instead of paint. It will be more edible afterwards.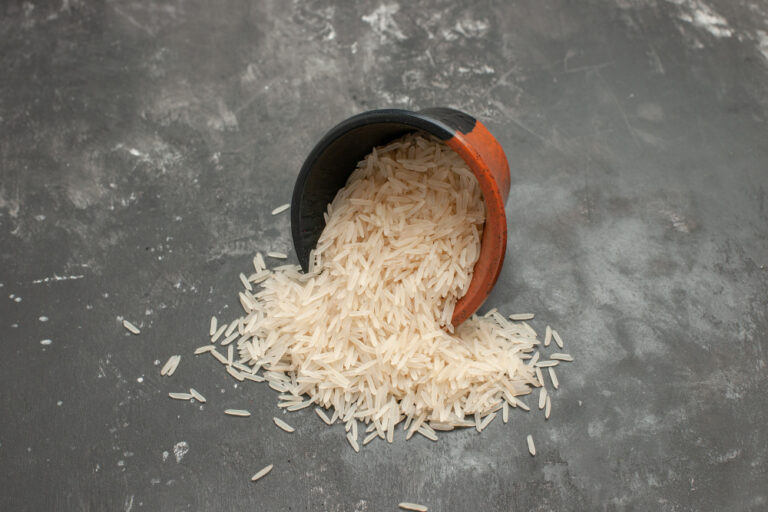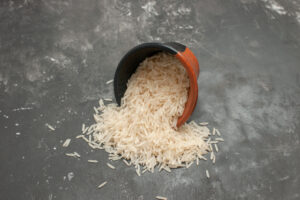 It's also easy to do. Place the rice in a resealable freezer bag along with the food colouring and about three tablespoons of vinegar. Close the bag and knead the rice until all the grains are coloured. Add a little extra food colouring if needed. Then, spread the rice evenly on parchment paper and let it dry overnight. In order to prevent the rice from clumping together, it is best to spread it from time to time. The next morning, the coloured rice is ready to play!
A toddler often has enough with a bowl of brightly coloured grains of rice for endless fun. It's not dangerous, especially if you're using food colouring. Uncooked rice is edible and quite small. It's obviously always best to keep an eye on your treasure.
Endless Possibilities 
For slightly older children, the possibilities are also endless. You can fill the holidays with creative rice crafts. For example, sprinkle the coloured rice layer by layer in a bottle to make a nice sand bottle. An elegant gift for Mother's Day or Father's Day! Or make a drawing with glue on paper and sprinkle each time with a colour of grains of rice. This way, you get a kind of rice mosaic. Coloured rice can also be useful for crafts. In a diorama, for example, you can use green rice as grass or blue rice as water. The possibilities are as strong as your imagination!
Would you rather create something that is thematically linked to the Easter holiday? With an old sock (or a sock whose counterpart has mysteriously been eaten by the washing machine) and some rice, you can create a cute Easter bunny figurine in a few super easy steps.
Musical Instruments
Another fun craft project you can keep playing with for hours is making musical instruments. With a rainmaker, you can imitate the sound of a pleasant downpour anywhere. All you need is a tube, rice, nails and hardware to decorate it. Place a generous spoonful of uncooked rice into the tube and seal the tube. Then drive (gently) a few nails into the tube; this way, the rice will take longer to fall. Let yourself be decorated, and you have your very own rainmaker.
A pair of maracas are just as fun to make as they are to play. Fill a water balloon with uncooked rice and close the balloon. Make a layer of paper mache around the balloon with wallpaper paste and newspaper. Finish your maracas by attaching them to a stick and painting them your favourite colour. All you have to do is shake!
Enjoy Cooking Together
You can also "tinker" in the kitchen. Prepare the coloured rice from our first tip with food colouring to add a little more colour to an ordinary meal. The guarantee of having a well-emptied plate.
But the kitchen itself can also sometimes look like DIY. If your child loves working with scissors and glue, chances are they'll also love making a sushi roll in the kitchen. Think of it as a craft project. An hour of cooking suddenly becomes an hour of play. Prepare your sushi rice ( or dessert rice) so that it can cool down. Lay a sheet of seaweed on a sushi mat, rough side up. Cover it with a layer of rice. Keep a centimetre free at both ends. You can put the filling in the middle. A piece of cucumber, a strip of salmon, it's up to you. Wet the edges of the seaweed sheet so that they stick. Then roll your sushi into a tight roll using the mat. It is best to cut them yourself with a (hot) knife into sushi slices.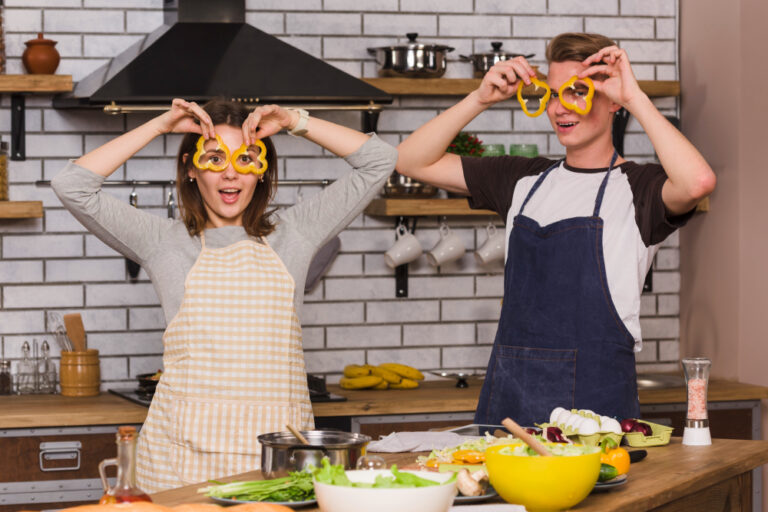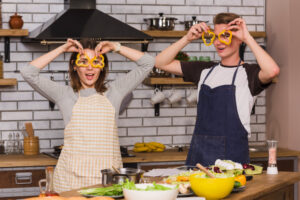 Everything rolls? So take your sushi skills to the next level by creating a slightly more difficult version, like a California Roll. The rice is not inside but outside. A delicious challenge for the advanced sushi chef.
Cooking together is, of course, always fun when something delicious is on the way. You won't need much persuasion to enlist your children's help in making delicious rice dishes.
Conclusion
So you don't have to go that far to preserve your children's creativity. With a good portion of rice, you can not only cook but also craft and even make music. It is an ideal way to stimulate the senses, but also fine motor skills and creativity. And who knows, they may develop a preference for balanced, quality rice from an early age!
Visit the ADNOOR website for the best golden Sella basmati rice, long-grain rice, brown rice, Super Kernel Basmati Rice, white rice, nuts, seeds, and dried fruits. We take pride in saying that we are the best rice suppliers in Canada and have been the importers, exporters, wholesalers, distributors, and co-packers of various nuts and grains in Canada for the last 25 years. We aim to provide our customers with quality products so they keep trusting us. So without wasting time, visit our website and order what you need.