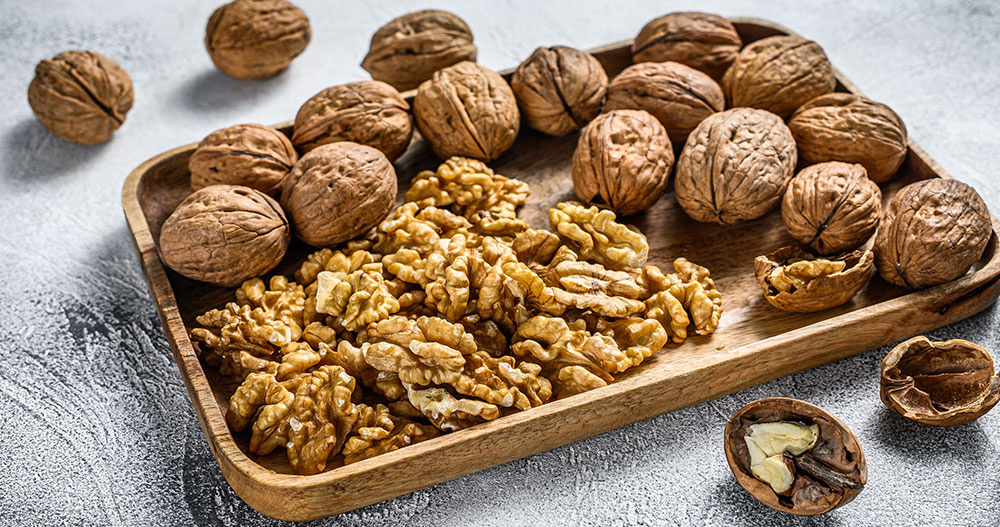 The nut has many benefits: its composition has many health benefits that other nuts do not. And consuming it will optimize your intake of protein, polyunsaturated fatty acids, fiber, vitamins, and minerals.
Are you athletic? Know that walnuts are an excellent source of protein. In addition, it allows you to benefit from a very interesting intake of omega-3 and antioxidants.
Contents
Walnut: Its Multiple Benefits and Recipes. 1
Walnuts are Ideal for Athletes. 1
A Natural Food Good for Health. 1
Fresh Cheese Lollipops with Walnut 2
Pan Pistou Walnut, Nettle, and Smoked Magret 3
Winter Salad with Walnut and Walnut Oil 3
Crispy Lamb Breast and Walnut 4
Walnuts are Ideal for Athletes
Also, for athletes, walnuts, an excellent source of protein, represent a nutritional gold mine.
Indeed, these nuts are full of essential nutrients, including Arginine, one of the 20 amino acids that make up our proteins and which plays a role in:
– Cell division
– Healing of wounds
– Elimination of ammonia by the body
– The proper functioning of the immune system
– And the secretion of certain hormones, including growth hormone.
The components optimize muscle reconstruction, a very interesting point when you submit your body to intense and regular sports training.
Rich in magnesium, vitamins E and B, as well as iron, calcium, minerals, and trace elements, walnuts are a privileged nutritional ally.
So, grab a small handful of our nuts next time you need a quick snack. An easy way to get an energy boost, they are easy to pack, have an excellent energy-to-weight ratio, and are a great food to complement your workout.
A Natural Food Good for Health
Many studies show the many benefits of walnuts, a treasure for our health. And the previous infographic illustrates all its contributions in:
Omega 3 and 6 (essential polyunsaturated fatty acids), Calcium, Magnesium, Phosphorus, Zinc, Iron, Copper, and Vitamins. This food, as healthy as it is natural, is good for everyone: children, teenagers, adults, and seniors.
Sporty, or less sporty, the magnesium and iron provided give you a boost effect. A real boost of energy!
Why not complete the children's snack (or your "munchies" break) with a handful of nuts? These nuts without additives calm the stomach with taste and naturalness, in addition to preventing your deficiencies and giving you back some pep.
Recipe Ideas with Walnuts
Fresh Cheese Lollipops with Walnut
For 4 People – Preparation: 15 Min
 Ingredients
– 100 g fresh cow's cheese
– 100 g fresh goat's cheese
– 100 g fresh cheese with garlic and fine herbs
– 200 g walnut kernels Périgord
– Salt, Espelette pepper
Preparation
Roast the walnut kernels in the oven or in a pan for a few minutes so that the walnuts take on a nice golden color.
Leave to cool and crush them in a mixer; keep a part just crushed, and continue to mix the rest to obtain a nut powder.
Season the fresh cow's and goat's cheese with salt and Espelette pepper. Add crushed walnuts to the fresh goat cheese. Form small balls with the three cheeses and freeze them for 10/15 min. Remove the small balls of cheese and coat them with the roasted and crushed Walnut kernels for the cow's cheese, with the fine Walnut breadcrumbs for the goat's cheese, and the garlic and herb cheese.
Enjoy as an aperitif, chilled
Pan Tomato Walnut Oil
For 4 People – Preparation: 5 Min
Ingredients
– ½ baguette
– 100 g poultry breast
– 1 Marmande tomato
– A little Espelette pepper
– 4 walnut kernels
– 5 cl of walnut oil
– 25 g of butter
Preparation
Toast the slices of baguette in the toaster.
Rub them one by one with the hearts of the tomatoes.
Generously dab each slice with walnut oil.
Place a piece of chicken breast on each, previously cooked in a frying pan in 25 g of butter, for 5 min per side.
Let it cool, then slice it.
Add the crushed Walnuts and sprinkle sparingly with Espelette pepper.
Pan Pistou Walnut, Nettle, and Smoked Magret
For 4 People – Preparation: 10 Min
Ingredients
– ½ baguette bread
– 1 slab of 90 g of smoked duck breast
– 1 bunch of nettles or flat-leaf parsley
– 1 clove of garlic
– 100 g of walnuts walnuts
– 5 cl of walnut oil
Preparation
Toast the slices of baguette in the toaster.
In a pestle, crush the previously washed nettle leaves, the garlic, the walnut kernels, and the walnut oil to make a pesto.
Spread each slice generously with this pesto.
Place on each of them a slice of smoked duck breast.
Winter Salad with Walnut and Walnut Oil
For four people
Preparation: 20 mins – Cooking: 5 mins
Ingredients:
250 g lamb's lettuce
Six white grapes
Six red grapes
125 g chicken livers
50 g dried apricots
A dozen walnut kernels
Four sprigs of chervil
1 tbsp mustard
2 tbsp honey vinegar
1 tbsp walnut oil
2 tbsp. tablespoons grapeseed oil
25 g butter.
Salt and ground pepper
Preparation:
Wash the lettuce and the grapes.
Denervate the chicken livers.
Cut the grapes in 2. Cut the apricots into large cubes.
Prepare a vinaigrette by whisking the mustard with the vinegar and oils. Salt, pepper.
Sauté the livers in the butter for 3 min.
Put the salad in a large deep dish.
Add raisins, apricots, and walnuts. Pour the vinaigrette and garnish with the chervil.
Crispy Lamb Breast and Walnut
For ten portions – Preparation time: 40min – Cooking time: 2h30
Ingredients 
200g walnut kernels
100g carrot
280g shallot
1/2 bunch of chives
1/2 bunch coriander
900g lamb breast
450g onions
One small bunch of thyme
250g of fennel
20g garlic
120g Bertranne apple
15g cumin seed
One pinch of cinnamon
120g of Causse blue cheese
17cl of cream
Ten sheets of brick or filo
One dead dough (mixture of flour and water)
Preparation
In a casserole dish, sear the lamb breast and add the cumin.
Halve the onions, 15g garlic, and 210g shallots. Add them to the casserole and close with dead dough. Cook at 150°C for 1h15min
Chop 70g of shallot, cut the fennel, carrot, and apple into a brunoise. Sweat in walnut oil, then set aside.
Crush the walnut kernels and chop the herbs and the remaining garlic.
Infuse the cinnamon into the cream. Filter and add the blue cheese from the Causses before blending, then set aside.
Shred the lamb breast and mince the onion, shallot, and garlic confit.
Assemble the crisps: put the ingredients in the sheet of brick or filo and close in a triangle.
Brown in a hot skillet.
Adnoor is the ideal platform to get the best quality dried fruits, nuts, seeds, and basmati rice in Canada. We have been the wholesale supplier of rice and dried fruits in Canada for the last 25 years. We are also the co-packers and wholesale distributors of various nuts and grains and aim to provide our customers with the best quality products so they keep trusting us.
CALL US AT +1 (647) 897-8959
REQUEST A QUOTE [email protected]