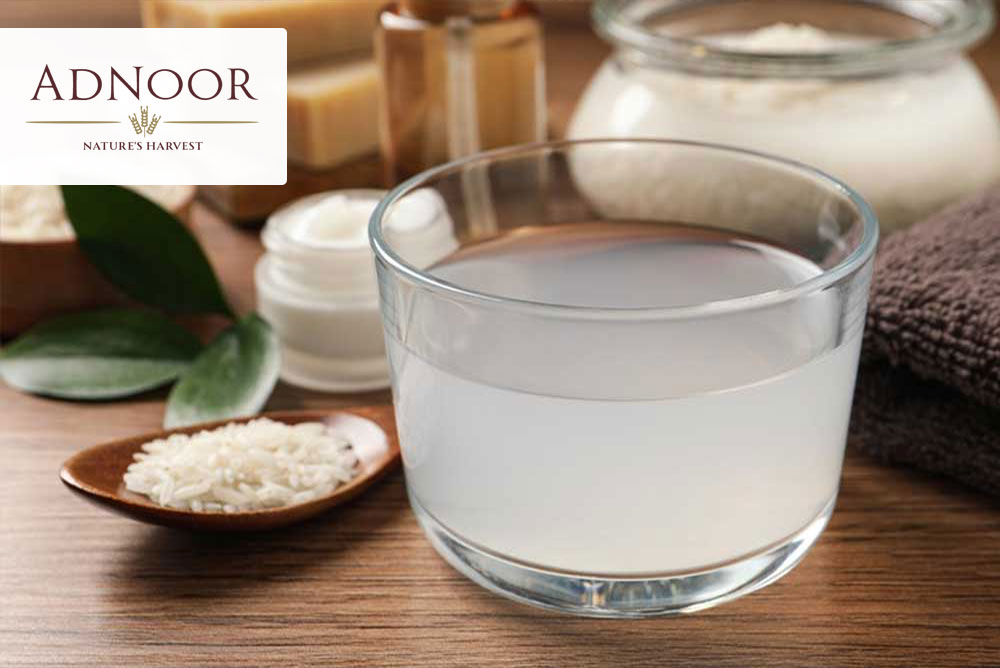 An everyday ingredient that you do not suspect for a second of what it can bring you! Rice water is good for our organisms, for the skin and even for our hair. And that the Chinese, Japanese and Malagasy have understood it well! Discover the benefits of rice water that will prevent you from getting rid of it in the future.
Rice Water for the Skin: Properties & Benefits
Rice water has many benefits for the skin, and it contains a lot of B vitamins, minerals, zinc and potassium.
Japanese women have used rice water for centuries to take care of their skin, and they were already aware of its many beneficial properties for the skin.
First, it helps keep the skin hydrated and feels comfortable on the face after rinsing.
It is also a natural lotion against aging skin. Indeed, it contains a lot of inositols which is a molecule that contributes to the regeneration of cells. Cell aging is also slowed down.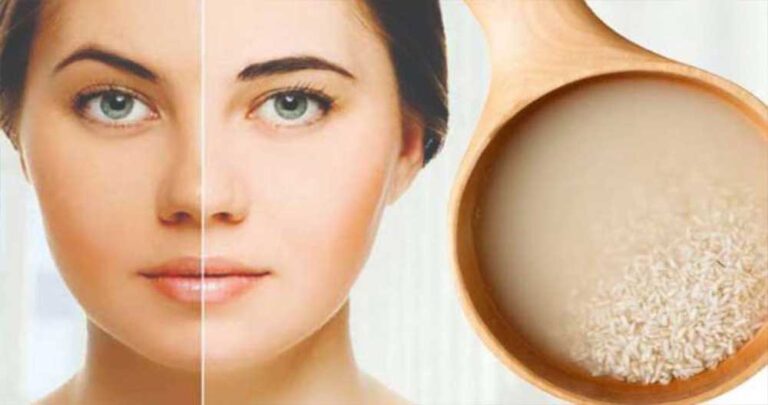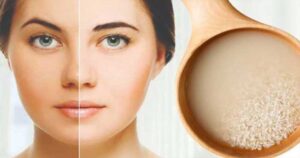 Rice water is even able to help in the treatment of acne.
It brings radiance and softness to the skin and eliminates brown spots that appear on the face. It is also UV protection.
Thanks to the para-aminobenzoic acid it contains, which is why it is used in certain sunscreens and plays the role of antioxidant there.
The starch that rice water contains allows it to reduce irritation linked to eczema. And thanks to vitamin B3, it has healing properties.
It can also be used as a cleanser. Rice water cleanses the skin without attacking it, removing impurities and eliminating excess sebum on the epidermis. Its astringent properties allow the pores to be tightened and the skin texture to be refined after a certain time. Even more surprisingly, mixed with aloe vera gel, it relieves the pain associated with sunburn.
How to Apply Rice Water on Your Face?
To apply, it is very simple: just recover either the water with which the rice was washed or recover the cooking water and wait for it to cool, soak a cotton ball with this water, then pass this cotton on the face.
This water must be left to stand for at least 20 minutes, but it is possible to let it act on the face all night. All that remains is to rinse, and you're done!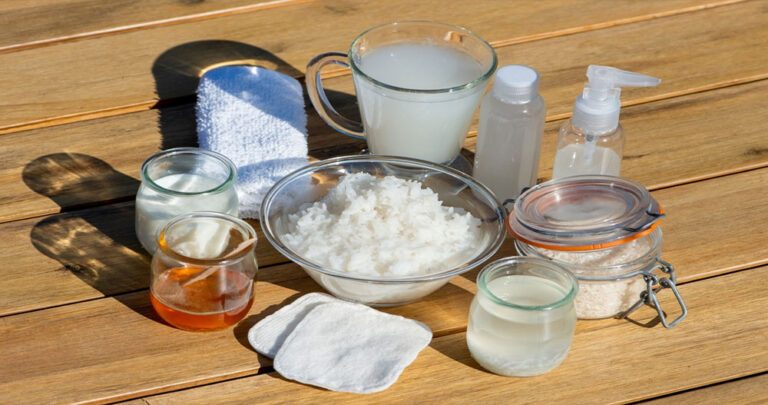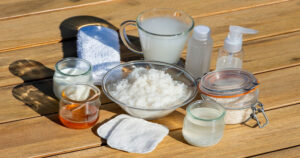 How to Take Care of Your Face without Rice Water?
If you don't make rice regularly, or if you always forget to collect the rice water, we have the solution! There are many beauty brands that specialize in organic face care and have a range of organic care to cleanse and sublimate the skin of the face. Inspired by the beauty secrets of women around the world, products are organic, vegan and cruelty-free, delivered within 48 hours in reusable and recyclable luxury packaging.
Rice Water for Hair: Properties & Benefits
Rice water also has a lot of benefits for our hair. It has been one of the secrets of Southeast Asian and Malagasy women for generations. Used in rinsing oil, conditioner or mask, it can only satisfy us.
Rice water has the ability to tighten the cuticles, the scales that make up the hair. This is why they are so brilliant! It shines the hair fibre and removes the dull effect of the hair. The starch in rice water reduces frizz and gives hair elasticity.
It strengthens brittle hair. There is no evidence that rice water makes hair grow faster. However, hair that has more difficulty breaking is hair that grows easier!
Rinsing with rice water can be likened to a treatment containing silicones but without the negative effects! It provides the same softness without damaging the hair.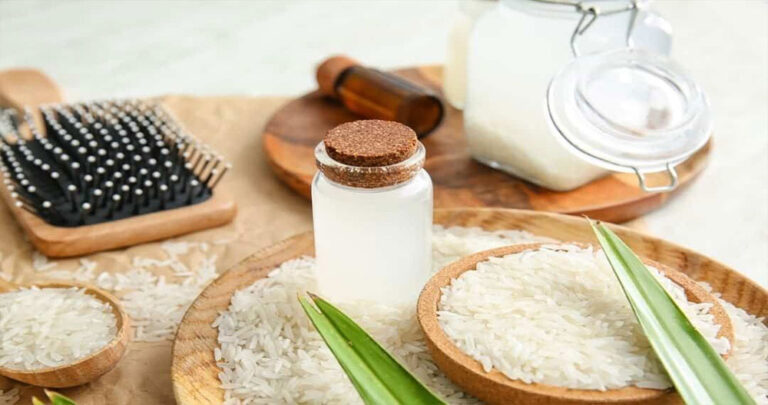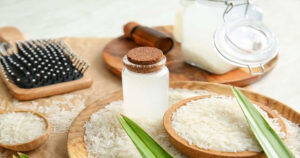 How to Apply Rice Water to Your Hair?
In order to benefit from the benefits of rice water, it is possible to use it to rinse your shampoo and then rinse your hair again with clear water. You can also apply the rice water very well as a mask, let it sit for about twenty minutes (or more), then rinse the entire length.
After that, the hair is easier to style and manage.
Rice water is most effective when it has been fermented, and all you have to do is collect the water and let it sit for two days at ambient temperatures. In this case, it contains more antioxidants, and its magic powers on the hair are multiplied.
The Benefits of Rice on Our Skin.
Rice naturally contains inositol, also called vitamin B7. It is a complex of several vitamins essential for the health of cell membranes; it is recognized for its ability to stimulate the microcirculation of the skin and thus generate a toning action with an action on the signs of aging, wrinkles and fine lines.
Rice is a vegetable rich in vitamin B. This constitutes an unstoppable shield to fight against external aggressions such as cold, pollution, UV rays or even limescale, but it also stimulates the regeneration of skin cells.
Rice powder mattifies the skin by absorbing excess sebum. In addition to its absorbent and mattifying properties, it softens the skin, brightens the complexion, reduces redness and tightens pores.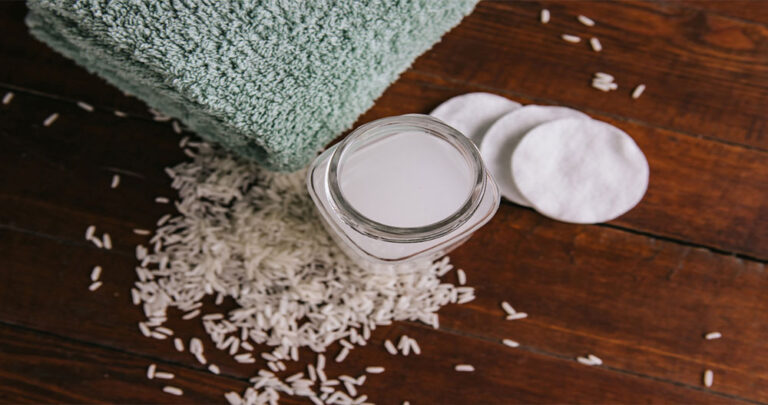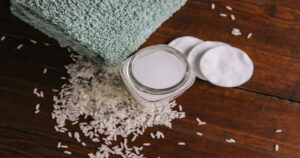 Additional Benefits of Rice Water
Incorporating rice water into your diet can save you from digestive disorders due to its enhanced fibre content.
Rice water is a natural energy booster, thanks to its mineral content.
Due to its high mineral content, rice water is very effective in treating diarrhea.
Rice water benefits are not limited to the above-mentioned issues, and it also stimulates breast milk production in pregnant women.
Visit the ADNOOR website for the best long-grain rice, golden Sella basmati rice, brown rice, white rice, Super Kernel Basmati Rice, nuts, seeds, and dried fruits. We take pride in saying that we are the Best Basmati rice suppliers in Canada and have been the importers, exporters, wholesalers, distributors, and co-packers of various nuts and grains in Canada for the last 25 years. We aim to provide our customers with quality products so they keep trusting us. So without wasting time, visit our website and order what you need.