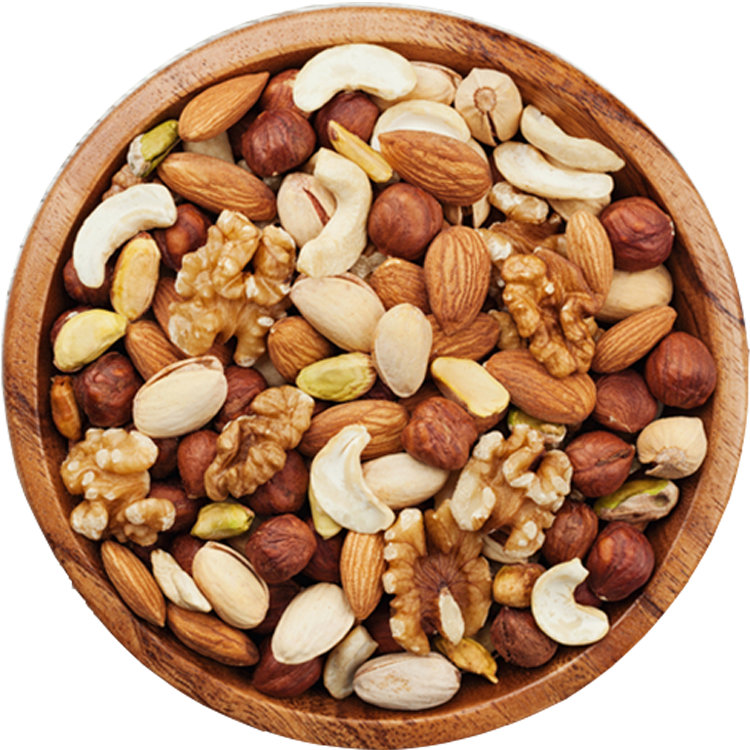 The great variety and types of dried fruit that exist are very wide. Depending on the dried fruit in question, you can prevent one group of diseases or another. Let's see it!
Nut
Walnuts  are the fruit of the nut, round or oval in shape. They have a hard, rough, reddish-brown shell. At the same time, its edible part is inside with a special sweet flavour.
Walnuts are the only dried fruit that provides the highest amount of omega 3. An acid that helps reduce cardiovascular problems, as well as blood pressure.
Almonds 
Almonds are the most nutritious nuts in the world, with a delicate, sweet flavour. Almonds contain many beneficial properties for our body, among which they help us to strengthen hair and skin. But its most important advantage is that it is very good for the heart.
In addition, almonds provide us with a large amount of calcium. This leads to a reduction in bone pain and the prevention of bone problems.
Hazelnut
It is a dry fruit to be digested, and it can be eaten raw, although it is also very common to find them roasted. Hazelnuts contain several nutrients that help maintain cardiovascular health. One could consider hazelnuts as heartfelt friends.
Pistachios
Pistachios  are another of the most popular dried fruits among Canadians. Its benefits are multiple, such as walnuts, almonds or hazelnuts.
Pistachios are rich in calcium, help prevent cardiovascular disease, prevent constipation and are beneficial for stress.
Plus, pistachios provide eight percent of the recommended daily value for magnesium, potassium, iron, and healthy fats. And it is considered an excellent migraine nut as it regulates the function of body muscles, the nervous system, blood pressure and blood sugar.
Cashew Nut
They are also known as cashew or cashew nuts. A fashionable and booming dried fruit in Canada. Like the other nuts, cashews are also very beneficial for health. In particular, it is a perfect food for pregnant women, providing them with iron and folic acid.
Buy Nuts Online
If you are a nut lover and want to enjoy them wherever you are, the Adnoor online store will be the solution to your problems. Enjoy a wide catalogue of varied nuts and various types, so you can enjoy very healthy and rich food as you deserve.
In addition, there is also a mix of nuts, that is, combinations of nuts to make snack times more enjoyable and fun, as well as beneficial to our bodies.
Finally, it should be noted that this online supermarket of dried fruits and grains offers the best selection of typical Canadian dishes from our gastronomy, always at the best possible price and quality.
If you want to get the best quality basmati rice, nuts, seeds, and dried fruits, visit the ADNOOR website. We have been the importers, exporters, wholesalers, distributors, and co-packers of various nuts and grains in Canada for the last 25 years.