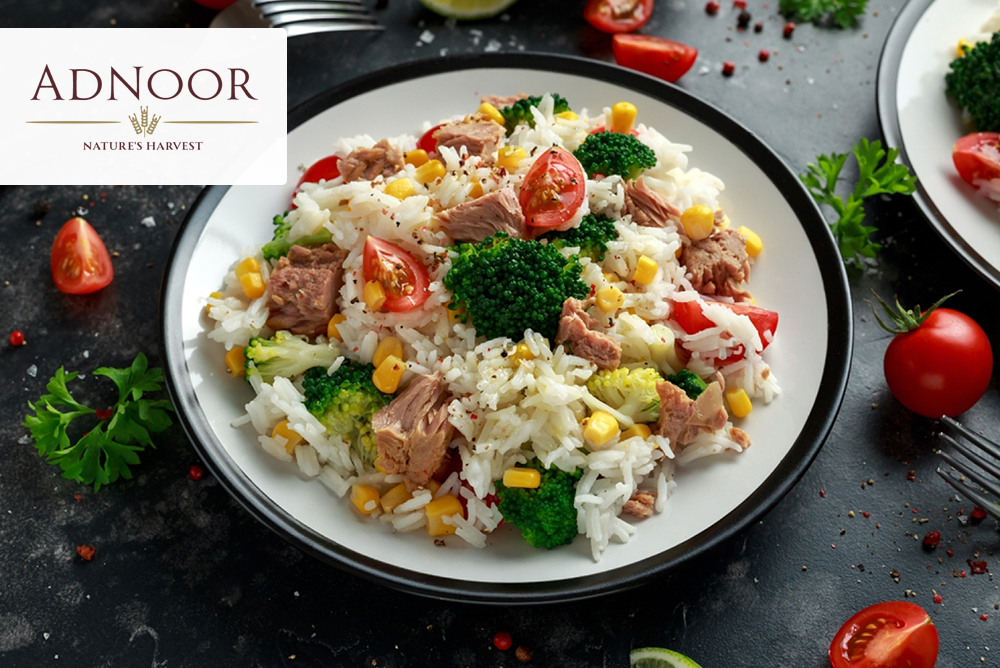 How to Make Healthy Basmati Rice Salad
Salad with basmati rice is tasty and refreshing. The basmati rice lends a nutty and aromatic taste to the meal, while the fresh herbs, cucumber, and bell peppers give a crisp texture and a burst of freshness. The seasoning, created with lemon juice and olive oil, gives a tangy and zesty taste that binds all of the components together. Overall, basmati rice salad is a tasty and healthful dish that is suitable for any occasion.
Background
Basmati rice salad's actual origin is unknown; however, it is said to have evolved in the Middle East or Mediterranean region. Basmati rice is a type of long-grain rice that is popular in Indian, Middle Eastern, and Mediterranean cuisine. The mix of rice, fresh vegetables, and herbs is a mainstay in many of these cuisines, and it is possible that it influenced the development of basmati rice salad. Because of its healthful and tasty character, the meal has acquired appeal in Western nations in recent years, and it is now widely served in restaurants and households all over the world.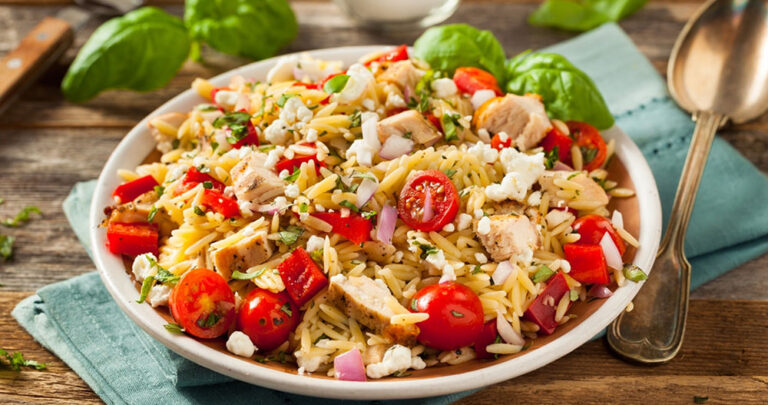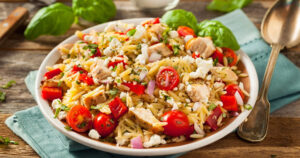 Ingredients of Basmati Rice Salad
For Rice
Basmati rice (2-Cups)
3 cups water (3-Cups)
Salt (1/2 Tsp)
Fresh lemon zest (4-inch)
For Adding
peas (2 Cups)
Raisins (1/4 Cup)
Minced green onions (1/2 Cup)
Fresh mint leaves (1 Tsp)
Grated lemon zest (1.5 Tsp)
Lemon juice (2 Tsp)
Olive oil (1/4 cup)
Salt (½ Tsp)
How to make Basmati Rice Salad
Rice Preparation
In a medium heavy-bottomed saucepan, combine 2 cups of basmati rice. Add 3 water cups (less or more based on package directions), 1 teaspoon of salt, and 2 lemon zest strips. Bring to a boil, then reduce to a low heat and cover for fifteen min. Remove from the heat, cover, and set aside for 10 minutes to steam.
Peas Preparation
Blanch fresh peas in boiling salted water (1 quart water, 1 1/2 teaspoon salt) for 3 to 4 minutes, depending on size and freshness (larger older peas will take longer than smaller fresher peas). Drain the blanched peas and throw them in a dish of icy water to shock them and finish the cooking process, then strain. If you're using frozen peas, they've already been blanched, so thaw them in a sieve with lukewarm water for a minute.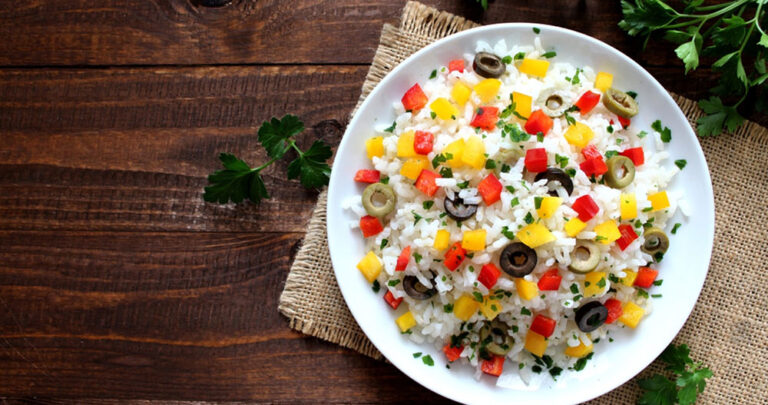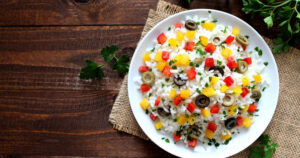 Let the rice cool
After the rice is finished cooking, lay it out on a big baking sheet pan to cool fast. Let 10 minutes to cool, or till room temperature. Put everything in a big serving dish.
Mix it up
Add the peas, raisins, green onions, mint, lemon zest, lemon juice, olive oil, and salt to the rice. Mix everything together and serve.
Serving
A salad with basmati rice can be served as a side dish or as a main entrée. A serving size of 1/2 to 1 cup is good as a side dish. Depending on your appetite, a serving size of 1 1/2 to 2 cups as a main dish may be more appropriate. It's essential to note that serving sizes can vary depending on personal requirements and tastes, and it's always more effective to pay attention to your body and stop eating when you're full. Basmati rice is high in carbs and rich in vitamins and minerals including thiamin, niacin, vitamin B6, magnesium, and phosphorus. It also includes antioxidants, which assist to protect the body from free radical damage.
Ideas for a Healthy and Refreshing Meal
Basmati rice salad is a flexible meal that goes well with many different cuisines. Here are some suggestions for serving basmati rice salad with different dishes.
Chicken grilled, Grilled chicken is a high-protein option that complements the nutty flavor of basmati rice. For a complete and fulfilling lunch, serve the rice salad alongside grilled chicken.
For a vegetarian option, serve falafel with Basmati rice salad. The crunchy texture of the falafel is enhanced by the richness of the vegetables and herbs in the salad.
Fish salad with Basmati rice can also be offered with grilled or baked fish. The salad's tangy lemon dressing complements the delicate flavor of the fish.
Curry, Basmati rice salad is an excellent accompaniment to Indian curries. The nutty taste of the basmati rice enhances the curry's robust spices.
Roasted vegetables, such as broccoli or cauliflower, make a delicious side dish for basmati rice salad. The mix of textures and tastes creates a filling supper.
You can serve Basmati rice Salad with your own chosen dish. A salad with basmati rice is a flexible meal that may be served with a number of other dishes. Assess out different combinations to discover your favorite.
Basmati rice Salad is healthy or not?
Basmati rice salad may be a healthful dish based on the components and technique of preparation. Basmati rice is good for health. Basmati rice is high in carbs and includes critical vitamins and minerals. Fresh vegetables and herbs are often used to make the salad, which provides fibre, vitamins, and minerals. The dressing's olive oil is a good source of fat, and the lemon juice offers a zesty taste without adding calories or sugar. However, the amount of dressing used in the salad should be considered because it might add calories and fat. Also, some recipes may include extra sweets or processed products, which might lower the nutritional content of the meal. When made with fresh, complete ingredients and a light garnish, basmati rice salad may be a nutritious and tasty supplement to a balanced meal.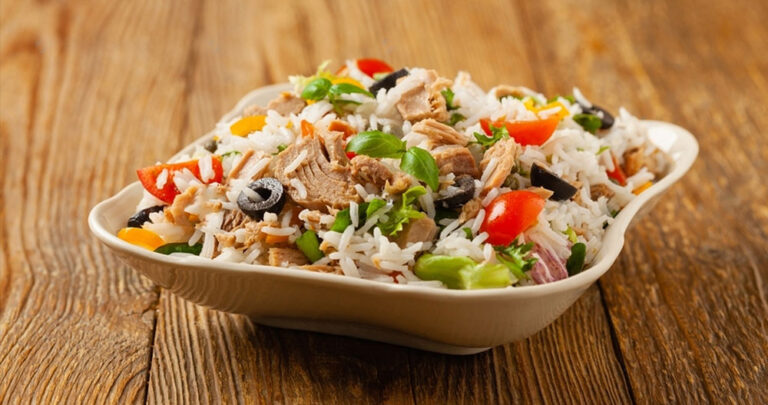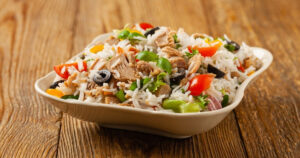 Where to get the best quality Basmati Rice
Visit the ADNOOR website for the greatest long-grain rice, golden Sella basmati rice, brown rice, white rice, amazing Kernel Basmati Rice, nuts, seeds, and dried end product.  We take satisfaction in declaring that we are Canada's greatest Basmati rice brand and that we have been exporters, importers, marketers, suppliers, and co-packers of different nuts and grains for 25 years. Always choose the best quality Basmati rice. Consequently, without any further hesitation, go visit the website and make a purchase.